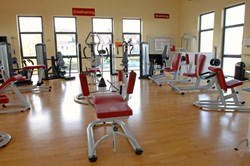 The new fitness center will be a great addition to the Pisgah Mountain Lodge, which sits on top of one of the highest knolls in The Coves, said Dan Shattuck, general manager of the 3,600 acre development.
Collettsville, NC (PRWEB) December 10, 2013
The new fitness center is located at the lower level of Pisgah Mountain Lodge, overlooking Grandfather mountain, and will include a full range of state-of-the-art weights and cardio equipment. The fitness center will also include, showers and lockers, as well as exercise and massage rooms. Jeff Knox and Moss-Marlow Building Company have been contracted for the project and the expected date of completion for the fitness center is in March 2014.
The Pigsah Mountain Lodge is by-far one of The Coves most breathtaking amenities and is sure to impress with its expansive decking, seating areas and fire pits. The Coves is a private community loaded with built-out amenities, representing the pinnacle of North Carolina Mountain Real Estate. Homeowners can participate in year-round activities, such as barbeques and concerts, while getting to know their like-minded neighbors in the beautiful natural environment.
If you are considering the absolute best in North Carolina Mountain Real Estate, The Coves is far from just a weekend getaway. Spread across 3,600 mountaintop acres, this community is gated with estate-size properties. Homeowners can choose from mountaintop vistas, riverfront retreats, and equestrian estates. Enjoy the balance between a community that is secluded and remote, but close to everyday conveniences and shopping-- which are found just seven minutes away.
The best in North Carolina Mountain Real Estate is waiting for you at The Coves at Round Mountain. For more information about The Coves at Round Mountain and its Pisgah Mountain Lodge, visit http://www.TheCovesNC.com or call (828) 394-4541.