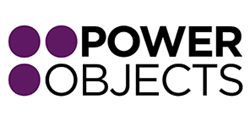 Our goal is to provide the best educational experience for all our customers and prospective customers.
Minneapolis, MN (PRWEB) December 08, 2013
PowerObjects, the leader in offering service, support, education and add-ons for Microsoft Dynamics CRM, is proud to announce it will be a gold sponsor for Convergence 2014, Microsoft's premier annual conference for Dynamics products. This year's event will be held from March 4-7 in Atlanta, Georgia, and is expected to bring in over 10,000 Dynamics users.
"Convergence is a must-attend event," says Jim Sheehan, COO of PowerObjects. "We had a blast in New Orleans last year, and this year we are taking it to a whole new level in Atlanta. Our goal is to provide the best educational experience for all our customers and prospective customers."
The PowerObjects booth in the Convergence expo will feature hands-on demonstrations of the latest developments in the new Dynamics CRM 2013 and demonstrations of PowerObjects' PowerPack add-ons, a suite of products designed to enhance CRM functions for sales, marketing, productivity and more. PowerObjects' recently released comprehensive CRM guide, The CRM Book, will also be showcased.
Conference attendees will also have a chance to participate in an interactive contest for prizes. "Last year we had people crowding around the booth in anticipation of winning the Microsoft Surface tablets we were giving away," says Sheehan. "We expect to draw even bigger crowds this year."
Early-bird registration for Convergence opened on October 29 and continues through January 9. "It is a good idea to register early if you are planning on going to this event," says Sheehan. "If you use Dynamics CRM or are seriously considering using it as your relationship management solution, Convergence is definitely a worthwhile event to attend."
About PowerObjects
Over the last 5 years, the team at PowerObjects has worked hard to become the recognized leader in delivering Microsoft Dynamics CRM solutions through unparalleled offerings of service, support, education and add-ons. As winner of the Microsoft Dynamics CRM Worldwide Partner of the Year award for 2012 and 2013, PowerObjects has built an unmatched team of CRM superheroes that help businesses and organizations of all types increase productivity, streamline business processes and build better relationships. PowerObjects is headquartered in Minneapolis, Minnesota, with offices in Chicago, Cincinnati, Dallas, Omaha, Philadelphia, New York, and Seattle and has over 135 employees. For more information on PowerObjects, visit http://www.powerobjects.com or call 612-339-3355.