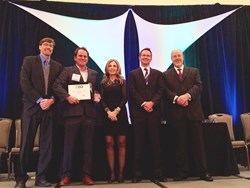 It is a great honor to receive this prestigious award and to be recognized alongside so many influential leaders in the community.
San Diego, CA (PRWEB) December 06, 2013
Sullivan Solar Power's founder and chief executive officer, Daniel Sullivan, was awarded Most Admired CEO by the San Diego Business Journal Thursday. For its seventh year, the San Diego Business Journal hosted the Most Admired CEO event, recognizing dynamic business leaders and role models, selected for their achievements and contributions to San Diego companies. After being a finalist for two consecutive years, Sullivan was the winner of the 2013 Most Admired CEO for a medium sized privately held company.
"It is a great honor to receive this prestigious award and to be recognized among so many influential leaders in the community," said Sullivan, who was accompanied by his employees as well as his 14-year-old son at last night's celebration.
Sullivan graciously credited the award to his hard working team and thanked his employees for their passion and dedication to turn his dream into reality.
Built from the ground up, Daniel Sullivan's story is the epitome of an American dream rags-to-riches tale. A master electrician by trade, Sullivan was inspired by the birth of his son to make the world a better place. At 26 years old, he took a leap of faith, with an old beat up Ford Ranger and only $2,500 in the bank. In 2004, office space and a warehouse were luxuries for Sullivan. The young entrepreneur worked and slept out of one of his customer's garage, warmed by a space heater, for the first year.
Over the last nine years, Sullivan Solar Power has grown organically, without any outside investment dollars, through hard work and dedication. Sullivan Solar Power has been ranked one of the fastest growing energy companies in the nation for four consecutive years by Inc. Magazine. Today, Daniel Sullivan employs more than 100 hard-working individuals, with a company fleet of more than 50 trucks that are dispatched out of the 14,272 square-foot San Diego headquarters. Sullivan Solar Power now has satellite offices in Orange County and the Inland Empire to service all of Southern California. The company anticipates closing out the year with more than $23 million in sales.
Through his vision and strong entrepreneurial leadership, Daniel Sullivan has grown his business and increased its profitability in the most competitive market in the country. San Diego is the solar capital of the nation, for both number of installations and solar capacity. As the longest standing locally-headquartered company to specialize solely in the design and installation of solar power systems, Daniel Sullivan has been an influential part of the region's growth. Under Daniel's leadership, Sullivan Solar Power has installed more solar power systems in the San Diego Gas and Electric (SDG&E) utility territory than any other local company, according to California Solar Initiative data.
Sullivan was praised at the awards for his active involvement within the community, and continuously giving back. In early 2013, Daniel Sullivan created a partnership through Sullivan Solar Power with nonprofit organization, GRID Alternatives. GRID Alternatives provides on-the-job training for volunteers to install solar panels on low-income property owners. Through Daniel's support, Sullivan Solar Power donates one locally-manufactured solar panel for each property owner that signs up to go solar with his company over a yearlong period.
"As a result of our company's donations to GRID Alternatives, it is expected that more than 90 families across Southern California will receive free solar installations," said Daniel Sullivan, "It is important to us that solar energy is made available to everyone – especially those who need financial relief the most."
Since 2009, Sullivan has provided over $1.5 million in incentives to local property owners that have gone solar through community solar programs administered by Sullivan Solar Power. In 2013, Sullivan Solar Power is offering the local community Sullivan Cash Rewards, a cash-back incentive of $0.20 per watt up to $1,500, for residential property owners that go solar before December 31, 2013.
"To date, more than 450 property owners are benefiting from our Sullivan Cash Rewards initiative. Sullivan Solar Power anticipates to pay out more than $600,000 to San Diego residents this year," said Sullivan.
For more information about Sullivan Solar Power or to schedule a free site evaluation, please call 1-800-SULLIVAN (1-800-785-5482) or visit http://www.SullivanSolarPower.com.
About Sullivan Solar Power
Sullivan Solar Power is a turnkey solar system provider that delivers solar electric projects from concept to completion. The company has installed over 18,000,000 watts of solar power ranging from small-scale residential to large-scale commercial and municipal systems. Sullivan Solar Power is headquartered in San Diego, CA and owned and operated by Dan Sullivan. Sullivan Solar Power has a longstanding A-plus rating with the Better Business Bureau, with no complaints filed since the business began. The firm has been named one of the fastest growing energy companies in the nation by Inc. Magazine for three consecutive years and services all of Southern California. Regardless of project size and scope, Sullivan is committed to delivering the best products and the most qualified professionals to its customers. Visit http://www.sullivansolarpower.com for more information.
###