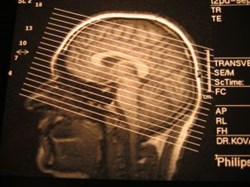 Brains of the injured group continued to display abnormalities after four months, even though their symptoms had already subsided to some degree
New York, N.Y (PRWEB) December 09, 2013
The brains of those who have suffered concussions show lingering signs of injury even months after the symptoms have subsided, according to a new study published Nov. 20 in the journal Neurology. The study compares 50 concussion patients with the same number of healthy people and finds that the brains of the injured group continued to display abnormalities after four months, even though their symptoms had already subsided to some degree. The U.S. National Institutes of Health (NIH) funded the study.
Researchers in this study found that while concussion symptoms had been reduced four months after the injury, brain scans still showed abnormalities in the frontal cortex area of both sides of the brain, the report said. According to the U.S. Centers for Disease Control and Prevention (CDC), a concussion is a type of traumatic brain injury that is caused by a bump, blow or jolt to the head that can change the way the brain normally functions. Concussions may also occur as the result of a fall or blow to the body that causes the head and brain to move quickly back and forth, the CDC web site states.
This study provides evidence that the consequences of a concussion can be long-term, says New York personal injury lawyer Kenneth A. Wilhelm, who has represented many victims of catastrophic and life-changing injuries. "Typically, a concussion tends to be viewed as a 'minor' traumatic brain injury. However, studies like this one underscore the fact that the brain could take a much longer time to recover."
What this also means is that the injured victim may not be able to return to a normal life until he or she has completely recovered, Wilhelm says. "It is important that brain injury victims keep track of all their medical expenses, including doctor's office visits, medication costs and expenses related to diagnostic tests."
Victims of such injuries or their families would be well advised not to enter into a quick settlement, according to Wilhelm. "Rushing into an agreement can be counterproductive for injured victims. This is because once such an agreement is signed, the case is considered to be closed and victims generally cannot seek further compensation for future costs related to the injury. It is crucial for injured parties to discuss the case with an experienced personal injury lawyer who will guide and counsel them every step of the way."
About the Law Offices of Kenneth A. Wilhelm
The Law Offices of Kenneth A. Wilhelm is a personal injury litigation firm with an unwavering dedication to its clients. With more than 42 years of experience, our firm strives to obtain the best compensation for those who have been injured or those who have lost a loved one due to an accident or by someone else's negligence. We handle cases dealing with personal injury, medical malpractice, wrongful death, workers' compensation, dental malpractice, motor vehicle accidents, pedestrian accidents, rape, paralysis, comas, seizures, false arrest, lead poisoning, trips and slips and falls, falls on sidewalks or stairs, elevator accidents, construction accidents, Erb's palsy, cerebral palsy, brain damage, blindness, hearing loss, dog bite cases, fire and smoke inhalation accidents, bicycle accidents, falls from windows or scaffolds, food poisoning injuries, and many other types of accidents and injuries. One of our clients received a verdict (Index Number: 11825/1995, Supreme Court, Kings County) of $43,940,000 in a brain injury case.
Please contact us TOLL FREE 24 hours a day, 7 days a week at 1-800-WORK-4-YOU (1-800-967-5496). WE CAN EVEN COME TO YOU. There is no attorneys' fee unless we recover money for you. We can also help with personal injury cases in New Jersey, Connecticut, Pennsylvania, or Florida. If you have been seriously injured in any of the 50 U.S. states, please call us and we will try to help you with your case.
Other TOLL FREE phone numbers for us are:
1-800-RADIO-LAW, 1-888-WYPADEK, OR 1-800-LAS-LEYES
The Law Offices of Kenneth A. Wilhelm
445 Park Ave, 9th Floor
New York, NY 10022
(212) 545-7373
Please visit us at: http://www.WORK4YOULAW.com