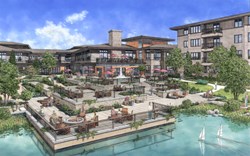 The challenges we overcame due to the recession have been worth it. Trillium Woods is will be a community we will all be proud of, Ed Kenny, president and chief executive officer of LCS
Des Moines, Iowa (PRWEB) December 09, 2013
The LCS-Westminster Partnership V LLP today announced completion of financing for Trillium Woods in Plymouth, Minn. Trillium Woods is the fifth Continuing Care Retirement Community (CCRC) developed by the LCS-Westminster joint venture partnership, and one of seven in the overall portfolio.
The LCS-Westminster Partnership began Trillium Wood's development process in 2006, just prior to the economic downturn. "Trillium Woods testifies to one of LCS' core principles; we are diligent and persevering," said Ed Kenny, president and chief executive officer of LCS. "We are delighted to achieve this important milestone. We are extremely appreciative to both the residents and the LCS marketing and sales staff that shared our conviction that Trillium Woods will be a special place to call home. The challenges we overcame due to the recession have been worth it. Trillium Woods is will be a community we will all be proud of."
"The LCS-Westminster portfolio of CCRCs continues to expand," said Robert T.E. Lansing, chairman and chief executive officer of The Westminster Funds® and co-owner of Trillium Woods. "We look forward to the opening for occupancy in the summer of 2015."
Trillium Woods is a $161 million development 65 percent debt-financed. The lenders include Bank of America as lead and administrative agent, Bankers Trust of Des Moines, Iowa and TCF Bank.
"A project this large requires tenacity putting together a financing package," said David Laffey, senior vice president and director of capital markets for LCS. "This is an important project to the LCS-Westminster partnership and to the future residents at Trillium Woods. We explored several avenues of capital to complete the optimal financing package."
Trillium Woods is a LifeCare™ retirement community designed for adults age 62 and older. Located on 46 acres off County Road 47 in Plymouth, Trillium Woods offers 14 residential floor plans for 195 apartments and 14 garden homes. The community will feature lifestyle amenities including an indoor pool, exercise areas for aerobics and strength training, library, auditorium, and dining venues. Trillium Woods also includes a health center providing skilled nursing, assisted living, and memory care, all in private suites. The Trillium Woods LifeCare program offers these onsite health care services at significantly reduced and predictable costs compared to options available to seniors in other settings.
"We've been waiting a long time," said Dr. Brad and Audrey Johnson, future residents of Trillium Woods. "LCS-Westminster worked hard to make the community a reality. We are really looking forward to moving to Trillium Woods and the lifestyle it offers."
The Weitz Company is the contractor for the project. Work on the community's building foundations began in October so the most complex part of the project will be under roof soon. This allows work to continue through the winter. Construction on the residential build-out of the retirement community will begin in early spring.
LCS®, a Des Moines, Iowa based company established in 1971, is providing both development and management services for Trillium Woods through two of its companies, LCS Development™ and Life Care Services™. LCS Development is a full service developer of senior living communities and has successfully developed more than 40 communities throughout the United States. Life Care Services will manage the Trillium Woods community. Life Care Services currently serves 28,000 residents in 27 states and the District of Columbia. For more information on the LCS Family of Companies, visit LCSnet.com.
The Westminster Funds® are part of Westminster Capital, a real estate investment management firm for private investors and their foundations. Located in Lake Forest, Illinois, The Westminster Funds today comprise eight commercial income-property investment Funds and two CCRC Funds for development and operation of CCRCs. The ten Funds total more than $600,000,000 of equity capitalization and own substantial commercial property investments throughout the United States.
The Trillium Woods Information Center is located at 3300 Fernbrook Lane North, Suite 225. There is a fully furnished model apartment home for touring and a scale model of the community layout with renderings of the community's common areas and grounds. Appointments can be made by calling 763-553-7600. Pre-construction pricing will continue through December 2013. TrilliumWoodsLCS.com.