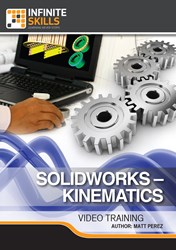 Learn SolidWorks - Kinematics at your own speed
(PRWEB) December 09, 2013
Software training firm Infinite Skills Inc. this week introduced its "SolidWorks - Kinematics Tutorial," an introductory course teaching SolidWorks' palette of tools for modeling motion with load-bearing models.
SolidWorks is a computer aided design program that uses a parametric, feature-based assembly system for building mechanical models. By learning the kinematics tool palette, users can master SolidWorks' capabilities for analyzing load and motion dynamics in mechanical models.
Infinite Skills' SolidWorks - Kinematics Video Training provides a focused training guide to allow experienced SolidWorks users to begin using these powerful features in a matter of hours.
SolidWorks - Kinematics Video Tutorial - Streaming
Course author Matt Perez is a certified expert in SolidWorks who has worked in training and private training consulting, helping companies develop strategies to improve efficiency in using SolidWorks since 2011. A SolidWorks user since 2009, Perez has been recently recognized by SolidWorks for a tutorial that focused on designing a Chevrolet Camaro.
After a brief introduction to the kinematics tool palette, explaining the command manager and toolbars, Perez introduces the Sketch Block feature in SolidWorks, explaining how to create linkages, work with belts and pulleys, and work with friction through the Engage Block command.
From there, the course looks at SolidWorks mates and mechanical mates, explaining how to apply kinematic features such as cam and follower, hinge, gear, and rack and pinion, to your SolidWorks assemblies.
Finally, Perez explains how to analyze kinematics using collision detection and physical dynamics to perform a motion study of your Sketch Block.
"There are several different options for how to model motion," Perez explains.
"We'll start with a simple 2D Sketchbox and progress toward creating a motion study, where we apply loads and forces and look at the results."
Free demo videos and a full list of course contents can be found on the SolidWorks - Kinematics training page of the Infinite Skills website:
http://www.infiniteskills.com/training/solidworks-kinematics.html
Infinite Skills offers its SolidWorks - Kinematics Training Video either as a direct download from the company website at a retail price of $24.95. Though the compatibility of programs varies, all Infinite Skills titles and formats are compatible with both Mac and Windows operating systems. Additionally, Infinite Skills tutorials are supported by project files which correspond to examples in the videos.
About Infinite Skills Inc.
A leader in the field of software training, Infinite Skills designs its courses on a task-oriented model, teaching complex skills by providing hands-on examples and guiding users as they carry out essential functions. Infinite Skills offers a wide range of software titles available as DVDs, digital downloads, and in iPad editions. Infinite Skills now offers a subscription service, providing access to all its training content for a monthly fee, keeping with company's aim of delivering professional training to customers anywhere they want to learn.