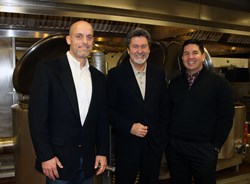 Austin, TX (PRWEB) December 07, 2013
On December 5th, GoMedigap Founder and President Richard Cantu, and his partner Kevin Walbrick, visited the Meals on Wheels and More headquarters in Austin to drop off a sponsorship that allows Meals on Wheels and More to deliver Christmas meals to 500 homebound elderly in the greater Austin area. According to the Meals on Wheels and More Development Director, Nicole Sarkar, the Meals on Wheels and More headquarters is normally closed for Christmas. They prepare meals ahead of time for special delivery to all of their "clients that do not have family to go to" or are "homebound." With the help of GoMedigap and nearly 50 family volunteers, 500 meals are delivered on Christmas morning to seniors all over the greater Austin area who are unable to leave their homes or spend the holidays with family.
This is the fourth consecutive year that GoMedigap, one of the nation's largest Medicare supplement insurance agencies, funded the Meals on Wheels and More Christmas delivery. GoMedigap first donated to Meals on Wheels and More in 2010 and has since partnered with the local Meals on Wheels organization in Round Rock, Texas to volunteer their employees to run meals once a week throughout the year.
About GoMedigap
GoMedigap is one of the nation's leading Medicare supplement agencies. They offer free educational services for seniors who are interested in exploring Medicare supplemental insurance and represent over 30 different insurance carriers. GoMedigap helps their clients find a Medicare supplemental insurance plan that suits their specific health and financial needs. They are rated an A+ company by the Better Business Bureau and maintain a 97% client satisfaction rate by their current clients.
About Meals on Wheels and More
Meals on Wheels and More is an independent and locally run organization that "seeks to nourish and enrich the lives of the homebound and other people in need through programs that promote dignity and independent living."