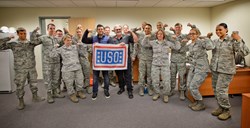 'For me, one of the most interesting aspects of going on this USO tour has been seeing every possible stereotype of an army base completely flipped on its head,' said Richman. 'The commanding officers are incredibly kind, and ...
Arlington, VA (PRWEB) December 06, 2013
Twitter Pitch: @Lord_of_Q and @AdamRichman make #USOmoments on @the_USO tour to Pacific, visit http://bit.ly/174LW9E to join in!
With the holidays now upon us, the USO fittingly deployed barbeque pitmaster Myron Mixon and renowned television host Adam Richman on a week-long, moment-filled USO holiday tour to South Korea December 1-8. In the region to help bring troops and their families a taste of home and continue the USO's delivery of special moments this holiday season, the duo is scheduled to visit seven bases in just seven days.
Details:

Four days into their week-long USO tour, Mixon and Richman have shared USO moments with hundreds of troops and military families stationed in South Korea. In total, the food connoisseurs have visited Camp Henry, Camp Walker, Camp Carroll, Kunsan Air Base and US. Army Garrison Yongsan. Among the bases still remaining are Camp Casey and Cam Red Cloud.
The Myron Mixon/Adam Richman USO tour is jam-packed with morale boosting, moment filled activities from insightful Q&As and intimate USO meet & greets with troops and their families to up close tours of the flight line and other interesting work sites.
Avid supporters of our men and women in uniform, Mixon is a USO tour veteran who traveled to Kuwait in September 2010 and delivered a finger lickin' meal complete with beef brisket, chicken leg quarters, barbeque and all the fixings to more than 3,000 troops. Equally as supportive is Richman, who regularly participates in charity events benefiting America's Armed Forces.
Nicknamed the "Winningest Man in Barbecue," Mixon has earned more than 1,800 trophies and won more than 180 grand championships. Taught how to make barbecue by his father, Jack – Mixon started Jacks Old South Cooking School in 1996 and is the star of Destination America's "BBQ Pitmasters Series." A master on the grill, Mixon developed his own line of high quality, innovative water smokers and just released his follow up cookbook "Everyday Barbeque" in 2013.
Host of NBC's "Food Fighters" and Travel Channel's "Adam Richman's Fandemonium," self-educated food expert developed a love affair with food as a young child. A native of New York, he formerly hosted "Man vs. Food," "Man vs. Food Nation," "Amazing Eats," and "Adam Richman's Best Sandwich in America." Richman recently released his first book "America the Edible: A Hungry History from Sea to Dining Sea" and was just named host of the Travel Channel's new series "Eat Secrets."
Quotes:
Attributed to Myron Mixon:
"It's been a very humbling experience seeing these guys and gals gong about the business of doing the ultimate service to our country. It's also been one the best times of my life. Talking about BBQ, family, friends and the highlight so far seeing one the hand built smokers they had on base. So cool. Proud they're here letting me do what I love to do back home. Love em all."
Attributed to Adam Richman:
"For me, one of the most interesting aspects of going on this USO tour has been seeing every possible stereotype of an army base completely flipped on its head. The commanding officers are incredibly kind, and unbelievably concerned about the welfare of their troops and the bases go above and beyond to bring the comforts of home to the brave men and women who live there. As someone who always associated the USO with wars of days gone by, it's amazing to be part of this organization who in the modern era is still dedicated to supporting the troops. The fact that I, as a civilian, can do anything to brighten the lives of the people that provide the blanket of freedom that allows me to pursue my dreams, is an absolute honor. It really blows me away when the troops tell me how much joy they derive from my visit - when it is THEY who are giving ME the experience of a lifetime! I was allowed to walk among some of the most hallowed halls in legendary bases, and as a military aviation geek-the ultimate highlight had to be sitting in the cockpit of a real F-16!!! It's like being a kid in a camouflage candy store!."
Multi-media
USO Tour Photos: http://bit.ly/1clbyCx
USO Fact Sheet: http://bit.ly/1apSMv2
About the USO
The USO lifts the spirits of America¹s troops and their families millions of times each year at hundreds of places worldwide. We provide a touch of home through centers at airports and military bases in the U.S. and abroad, top quality entertainment and innovative programs and services. We also provide critical support to those who need us most, including forward-deployed troops, military families, wounded warriors and families of the fallen. The USO is a private, non-profit organization, not a government agency. Our programs and services are made possible by the American people, support of our corporate partners and the dedication of our volunteers and staff.
In addition to individual donors and corporate sponsors, the USO is supported by President's Circle Partners: American Airlines, AT&T, Clear Channel, The Coca-Cola Company, jcpenney, Jeep, Kangaroo Express, Kroger, Lowe's, Northrop Grumman Corporation, Procter & Gamble, and TriWest Healthcare Alliance and Worldwide Strategic Partners: BAE Systems, The Boeing Company, Lockheed Martin, Microsoft Corporation and TKS Telepost Kabel-Service Kaiserslautern GmbH & Co. KG. We are also supported through the United Way and Combined Federal Campaign (CFC-11381). To join us in this patriotic mission, and to learn more about the USO, please visit uso.org.