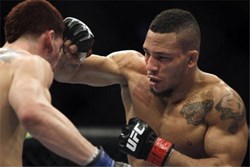 Camp Springs, MD (PRWEB) December 07, 2013
Lloyd Irvin heads his academy out of a small town in Maryland, minutes from the nations capitol and northern Virginia. The school buzzes with students; adults and kids, beginners and advanced. Students from all walks of life train here, each person seeking his/her own individual goals. Over ten years ago, one of those individuals was Mike Easton, now known as "The Hulk."
Mike Easton was 16 years old when he met Master Lloyd Irvin and told him he was going to be a UFC Champion. This was long before the UFC was as successful and mainstream as it is now, in fact, at the time there wasn't even a bantamweight division. Ten years later, Mike Easton has earned two black belts under Master Lloyd Irvin, in Brazilian Jiu Jitsu and Thai Jitsu, and is currently the #9 ranked 135lber in the UFC.
"Master Lloyd Irvin has always been there for me. He gave me a job at the academy when I was younger, he's coached me and helped me get to where I am," says Mike Easton. And now, Mike will once again have Lloyd Irvin in his corner when he faces off against TJ Dillishaw next month at UFC Fight Night in Duluth, GA.
After a roaring start in the UFC, Easton is currently on a two fight skid, losing back to back decisions to Rafael Assuncao and Brad Pickett respectively. His loss to Pickett was a tough fought battle and earned both gentlemen Fight of the Night bonuses. The bonus was great for Mike, but still left him in an uncomfortable position in a stacked bantamweight division.
Mike Easton and head coach Lloyd Irvin are looking to turn things around January 15th. TJ Dillishaw (9-2) is the #8 ranked bantamweight, just one up from Mike Easton. Fighting out of Sacramento, CA, Dillashaw is a well-rounded fighter, with good striking and wrestling. Irvin's plan for Easton should be to keep this one on the fight, as Mike is the superior striker on paper. Dillashaw may have good wrestling and ground and pound, but he'd be wise to watch out for Easton's ground game. That black belt from Lloyd Irvin could come into play, should it hit the ground.
This should be an all-out battle, as neither man wants to add another L to their record. The fight can be viewed live on January 15th on Fox Sports 1.
For for information on Mike Easton and Team Lloyd Irvin, please call 301-449-KICK, lines are open 24/7. Or visit http://www.lloydirvinlive.com.