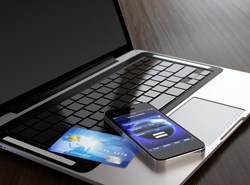 Mobile phones offer limited real estate, so banks need to be strategic in delivering an exceptional and personalized experience to clients.
Stamford, CT (PRWEB) December 09, 2013
Richard Simons, CEO of Creative Virtual USA will present as a panelist during the NetFinance Webinar: Understanding The New Consumer Journey To Design Your Touch Points & Create A Consistent Experience Across All Channels. The webinar will be held on Tuesday, December 10th at 11 AM EST and will feature Brad Leimer, VP Online/Mobile Strategy, Mechanics Bank and Mark Schwanhausser, Director of Omni-Channel Financial Services, Javelin Strategy & Research as speakers.
"Mobile will be the gateway for improving the customer experience in 2014," Simons said. Banks need to find a good solution for their customers which will allow easy engagements via talking, typing or tapping. Mobile phones offer limited real estate, so banks need to be strategic in delivering an exceptional and personalized experience to clients."
Consumers who are using smartphones today are expecting more and more out of their mobile devices --including banking. Banks need to consider a customer experience that is truly omni-channel, with customers getting consistent messages and features no matter how they choose to bank. Mobile banking has now reached a point where customers have the ability to interact with their banks via speech to text and typing, with sophisticated natural language processing capabilities understanding their intent and providing relevant content. The panel debate will outline the new consumer's expectations for mobile banking and give some real life examples of how companies today can create a seamless journey across channels.
This session will cover:

Ensuring you are tracking and measuring the right data, amidst all of the noise coming through
Customers want to interact with you wherever and whenever they want- Using this data to determine how customers are interacting across mobile, social, display, email and the web to drive incremental sales
Feeding this knowledge back into systems, processes, programs, policies, initiatives and procedures to have one end in mind: to strengthen your focus on the customer experience
Getting to grips with the way customers will interact with financial services in 2014 and what you can do to prepare for this moving forward
Four screen: How are Financial Institutions creating a great experience across mobile, tablet, TV and online?
Register today to attend this informative panel.
About Creative Virtual
Creative Virtual specializes in easily deployed customer experience solutions. Our technology offers a unique combination of multi-modal speech-to-text natural language processing, personalization and a strong omni-channel knowledgebase.
Creative Virtual can create and fuel a smart customer journey by highly personalizing the interaction between a person and an organization. Our enterprise clients include HSBC, Verizon, CA Technologies, and E*TRADE. Clients rely on our technology to optimize their customer support, sales, marketing and call center teams, reduce costs, increase online sales, and achieve operational excellence across mobile, web, and social media channels. For more information about Creative Virtual solutions, products and software, please visit our website at http://www.creativevirtual.com.