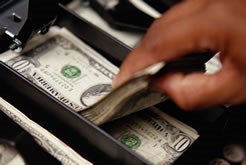 Our LiveAnalyst™ team has created hundreds of fraud cases in just the first few months...
Las Vegas, Nevada (PRWEB) December 09, 2013
Today, eConnectGlobal™ announced that they are offering a nationwide service to businesses who utilize digital Point of Sale systems in brick and mortar establishments. They help businesses by monitoring their surveillance cameras as well as analyze the transactions that are processed by cashiers, bartenders & retail clerks. They have been very successful in catching illicit activity through their POS Connect™ system which compares employees against each other to determine which of them are operating outside the normal trends.
Most operators and managers have very little time to look for internal POS theft or don't have a platform to proactively search for exceptions. Even with surveillance cameras, it is very hard to detect scams without seeing the corresponding data. When they invest in fraud prevention, the return on investment is very appealing yielding immediate results which increase profitability and have a profound effect on employee behavior.
"Our LiveAnalyst™ team has created hundreds of fraud cases for our clients in just the first few months of our service." Mentioned George DiGrandi, eConnects Chief Operating Officer. "Our service is less expensive than hiring a full or part time person to analyze behavior and our expert investigators are highly trained to find all types of illicit POS transactions."
More about eConnects service and a case on NBC Miami news can be found in this video:
About eConnect™
eConnect is a software company in the security industry which provides financial transactional analysis with visual verification. This is accomplished by synchronizing transactional data from point-of-sale (POS), casino systems and games to digital video surveillance, producing the best fraud deterrence tool in the industry. The software tool also increases the effectiveness of employee productivity, allowing managers to easily identify common employee errors. The software provides a dramatic return on investment usually within 3 to 6 months.