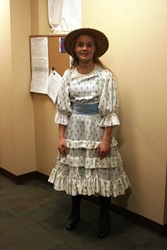 The other actors are hysterical and fun to work with.
Santa Barbara, California (PRWEB) December 09, 2013
Dunn, a private school for grades 6-12, announced that seventh grade student, Emily Cummings, this month performs as Fredrika in A Little Night Music, produced by the professional Ensemble Theater Company of Santa Barbara. The humorous musical will be performed in Santa Barbara's newly renovated New Vic Theater from December 5 – 22.
As a seventh grader at Dunn Middle School in Los Olivos, Emily has taken improv and theatre classes led by humanities teacher Mac Duncan. Most recently, she acted as the Lone Ranger in a school production of The Lone Ranger. Last summer, Emily acted in the Arts Outreach production of Anything Goes.
Emily adores playing her latest role where she gets to act alongside some Hollywood luminaries: Piper Laurie plays her grandmother, Stephanie Zimbalist is her mother, and Patrick Cassidy plays her dad. "I like that people in the show confide in Fredrika. I am the secret keeper in this play." And her witty adult cast makes all the hours of rehearsal worth it. "The other actors are hysterical and fun to work with," admits Emily. "They all have great senses of humor."
Dunn School is a private school for grades 6-12 in Los Olivos, California. The college-prep middle school and high school offer a distinctive program of challenging academics and hands-on experiences in a community that develops the whole student. Dunn's scenic 55-acre campus in the Santa Ynez Valley is just 30 minutes from Santa Barbara. Dunn offers day and boarding options for students. For information, visit http://www.dunnschool.org.