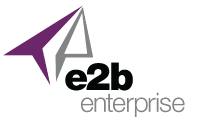 Chardon, Ohio (PRWEB) December 10, 2013
Today, e2b enterprise, certified resellers and partners of Epicor Software, released a new white paper entitled, "13 Epicor ERP Features you need at the Center of Your Business." This white paper serves as a guide for companies who are currently using, or plan to use, Epicor 9 ERP in their organizations so they can fully understand the different modules available within their ERP systems.
The whitepaper walks through the major functional areas of Epicor 9 ERP and briefly explains how these features work together to support an organization's various business processes, eliminate data silos and disparate systems, and improve overall business efficiencies. This white paper walks through the 13 major functional areas of Epicor 9 and briefly explain how these features will:
-Improve overall business processes
-Add value for employees
-Grant control over operations
-Enable employees to achieve their goals
-And more!
Download the white paper to learn more, or take a virtual product tour.
Epicor 9 ERP is scalable, modular, and has rich feature sets, which allow it to sustain your company's growth with rapid implementation and easy expansion no matter the size and complexity of your business. As a multidimensional solution, Epicor 9 is uniquely positioned to manage the requirements of multiple industries, including Manufacturing and Distribution for Industrial Machinery, Automotive, Aerospace and Defense, Medical Device, Electronics and Electrical Equipment, Fabricated Metals, Furniture and Fixtures, Rubber and Plastics, Job Shops, and more.
About e2b teknologies
e2b teknologies provides cloud-based business software applications and business services to progressive businesses worldwide. e2b anytime apps (e2banytime.com) is the publisher of Anytime Supply Chain, Anytime Commerce, Anytime Collect, and related Anytime brand products. e2b enterprise (e2benterprise.com) develops custom cloud-based business applications and resells leading ERP accounting software, CRM, HRMS, and other enterprise business software applications from Sage Software, Epicor, SugarCRM, and other publishers.