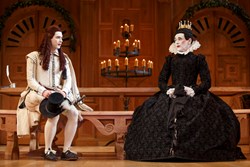 'Tiffany & Co. has a longstanding history of supporting the arts...' - Jeffrey Bennett, vice-president of Tiffany & Co.
New York, New York (PRWEB) December 07, 2013
This Sunday, royalty, celebrities as well as business and government leaders will join in New York City for a gala in support of Shakespeare's Globe.
Founded by the pioneering American actor and director Sam Wanamaker, Shakespeare's Globe is a vibrant organization and reconstructed open-air theatre on the banks of the River Thames, London dedicated to the exploration of Shakespearean, Elizabethan, Jacobean, and contemporary theatre. The Globe has always been an international story, having been built by an American; welcoming international audiences into its oak embrace throughout its life and taking its work back out into the world including many theatre tours and workshops in the US.
The gala is being sponsored by Culture Home by Tanja Ellis, an international real estate development company, as well as Tiffany & Co., the global leader in luxury jewelry.
"The Globe is such a cultural standard bearer," said Tanja Ellis, the founder of Culture Home. "Their group and theatre really encapsulate what we do at Culture Home, which is fuse culture and real estate in to beautiful projects."
More than 60 leaders in business and government as well as royalty, celebrities and others will watch the sell-out Twelfth Night currently being performed at the Belasco Theatre.
The play which marks the Broadway debut for Shakespeare's Globe is presented with an all-male company playing both male and female roles, as the plays were originally staged in Shakespeare's day. The productions are filled with music, played live by seven musicians on traditional Elizabethan instruments in a gallery above the stage, and are lit almost exclusively by the glow of 100 on-stage candles. Entering the theatre, audiences will also witness the pre-show ritual of actors dressing and preparing their make-up on stage.
Guests will then head to Tiffany & Co.'s flagship location on Fifth Avenue with the cast for a sumptuous dinner.
The gala will support the Globe's new indoor theatre which will be welcoming audiences from January 2014. The new theatre – a Jacobean archetype of an early indoor theatre, lit by candles will be a completely unique theatre of which will amaze audiences from all round the world.
"More people watch Shakespeare at the Globe than any other theatre in the world, ," said Neil Constable, Chief Executive of Shakespeares Globe "our indoor theatre is really something quite spectacular, and will allow us further extend our repertoire . We are so grateful to Culture Home as well as Tiffany & Co. for supporting us."
"Tiffany & Co. has a longstanding history of supporting the arts," said Jeffrey Bennett, vice-president of Tiffany & Co. "Through our partnership with Culture Home we hope to support the Globe's efforts with the construction of their new theatre."