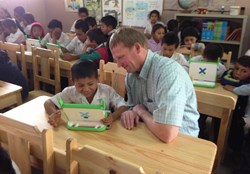 In this season of giving, we're hoping even more will join us in bringing the gift of education to Honduran children - Greg Ubert, Crimson Cup Coffee & Tea.
Columbus, Ohio (PRWEB) December 07, 2013
Crimson Cup Coffee & Tea's Indiegogo campaign has raised more than $1,690 for education of Honduran Children. With several weeks left to go, the company is asking coffee lovers to donate or share the #F2FGive hashtag via social media.
"We're grateful that so many coffee house customers, independent coffee shop owners and vendors have chipped in to help kids in a remote coffee-growing community," said Greg Ubert, founder and president of the coffee roaster and coffee shop franchise alternative. "In this season of giving, we're hoping even more will join us in bringing the gift of education to Honduran children."
Crimson Cup will give $1 for every donor who shares the hashtag #F2FGive on social media platforms Facebook, Twitter, LinkedIn and Instagram, up to $1,500 total. Donors receive additional incentives ranging from stickers to El Socorro coffee beans to a private coffee cupping at Crimson Cup's Columbus, Ohio roasting headquarters.
The campaign seeks $4,800 to help children in the remote coffee-farming community of El Socorro de la Penita, Honduras, where fewer than five percent of local children attend school beyond sixth grade. The funds will add a part-time English-speaking teacher for two years for the community's Jose Cecilio del Valle elementary school, where a single teacher currently works with up to 74 children.
Ubert said the educational goal was developed by working with coffee farmers as part of Crimson Cup's Friend2Farmer program. "Community leaders recognize that improving education is vital to transforming their village from poverty to prosperity," he said.
El Socorro is one of the first communities to benefit from Friend2Farmer. Through this program, Crimson Cup works hand-in-hand with farmers to develop better coffee and a better quality of life for their community.
"As coffee roasters, it's important for us to protect the integrity of the bean from seed to cup," Ubert said. "This requires honoring the work of small-plot coffee farmers and ensuring that they receive their fair share of the proceeds from the world's largest cash crop."
In addition to paying a premium price for the El Socorro Friend2Farmer coffee, Crimson Cup also invests in the health and education of the community. Since 2011, Crimson Cup has supported education in El Socorro by donating funds for new school textbooks, desks for a new computer lab and a new playground fence. In 2013, it also sponsored a service learning trip for Ohio State University students, who developed a five-year plan to transform the impoverished village into a thriving coffee enterprise.
About Crimson Cup Coffee & Tea
Since 1991, Crimson Cup Coffee & Tea has hand-roasted specialty coffee in Columbus, Ohio and taught independent business owners how to be successful through its coffee shop franchise alternative program. Sustainably sourced Crimson Cup coffee is available through a network of more than 350 independent coffee houses, grocers, college and universities, restaurants and food service operations across 28 states, as well as the company's own Crimson Cup Coffee House in the Columbus suburb of Clintonville. For more information, visit crimsoncup.com.