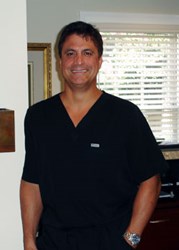 Durham, NC (PRWEB) December 08, 2013
Patients who have multiple missing teeth and insufficient jaw bone density can now have the benefits of dental implants with the convenience and simplicity of fixed removable dentures in less time and with less discomfort and cost compared to other implant procedures from Dr. Jason Cataldo of Periodontics and Dental Implants of North Carolina. In an estimated one-hour office visit, patients can fill a mouth of missing teeth with the superior structure provided by implants and the ease of a fixed removable denture.
Historically, patients who have had multiple missing teeth combined with a low density of jaw bone would not have been able to be candidates for dental implants. In order for an implant placement to be successful, it requires a certain amount of healthy jaw bone to be drilled into for long-term support and stability. Dr. Cataldo's use of the technique known as All-on-4 places four titanium posts into select areas of the bone noted to have the most density to be used as the foundation for the denture prosthesis. As needed, the posts may be positioned at different angles to allow optimal connection with bone and be able to fuse with it. It is the fusion of the post and the bone that yields the ultimate stability needed.
This new All-on-4 process of placing dental implants also reduces the need for bone grafts, dramatically reducing the impact and cost for patients. In addition to providing solid support for the denture, the four implants allow the jaw bone to receive the stimulation that it needs to prevent resorption, which can happen when neither teeth nor implants are present. The All-on-4 implant technique eliminates the need for patients to undergo multiple office visits and procedures.
Patients in North Carolina with missing teeth who would like to learn more about All-on-4 implants and if they may be able to benefit from this are invited to contact Dr. Cataldo's office or visit his website at http://www.carolinaperioimplants.com.
About The Doctor
Periodontics and Dental Implants of North Carolina is a periodontal practice offering personalized dental care for Durham, NC gum disease patients. Dr. Jason Cataldo attended college at the University Of Buffalo School Of Dental Medicine, completed a general practice residency at Michael Reese Hospital in Chicago, IL, and completed his periodontal training at Case Western Reserve University in Cleveland, OH. He is board certified in periodontology and Adjunct faculty at the University of North Carolina at Chapel Hill. Dr. Cataldo is part of one percent of dental professionals providing the most recent FDA cleared laser procedure for gum disease treatment. To learn more about Periodontics and Dental Implants of North Carolina and their dental services visit their website at http://www.carolinaperioimplants.com and call (919) 724-4273.