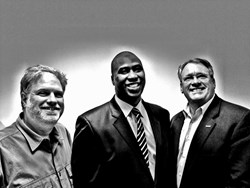 Ron McNab, Mory Camara, and Darren Sandford will enhance the existing AireSpring team in providing cutting edge next-generation communication solutions.
Los Angeles, California (PRWEB) December 09, 2013
AireSpring, the award-winning provider of voice, data, MPLS, SIP trunking and cloud hosted services is proud to welcome three new senior executives to its team. Ron McNab, Mory Camara, and Darren Sandford will enhance the existing AireSpring team in providing cutting edge next-generation communication solutions and broader end-to-end services to agents and their customers. All of them have a wealth of knowledge and experience in the telecom industry that makes them invaluable additions to the team.
Ron McNab is returning to AireSpring as the Senior Vice President of Channel Sales after a stint as CEO at a wholesale communications company. Ron is highly respected throughout the industry for his extensive expertise in the development of sales strategies, thought leadership, and channel management. His energy and motivation have earned him an outstanding track record in a competitive marketplace.
Though Ron is well known for his previous role as the head of AireSpring's Channel sales organization, he has also served as the General Manager of Telepacific, where he helped build their Las Vegas market. Ron looks forward to reconnecting with AireSpring agents and growing the leading channel program.
Mory Camara joins AireSpring in the role of Senior Vice President of Engineering. His history in designing, deploying, and managing complex network solutions has prepared him to offer new ideas and insights into AireSpring's network design and operations. He has proven his ability in previous roles at handling problem solving, troubleshooting, and security and disaster planning.
Mory has more than twenty years of experience in data networking and has worked as a global engineer for some of the biggest names in the business such as Sprint, Exodus, and Pac-West Telecomm. While at Deluxe Entertainment Services Group, he helped launch Deluxe Express, the first intercontinental 10gig network capable of transferring uncompressed, multi-terabyte, full frame, high-definition video for the entertainment industry. In addition to his professional experience, Mory also holds extensive Microsoft, Cisco, and network certifications.
Darren Sandford takes on the role of AireSpring's new Senior Vice President of Strategic Initiatives and Process Improvement. He has over two decades of experience in programming, telecommunications, information technology, and networking which he brings to this position.
Darren has held senior management and executive positions at a number of telecommunication companies including: Covad/Megapath Communications, Pac-West Telecomm, and Primus Telecommunications. He previously served as Vice President for Technology Deployment at California Emerging Technology Fund, where he assisted numerous organizations in planning and deploying telecommunication networks to expand broadband access in underserved communities.
"We are so proud to welcome these new members to team AireSpring," said Daniel Lonstein, AireSpring COO. "With their history and experience in the telecom industry, each of them brings valuable skills that will strengthen AireSpring's ability to provide excellent service to our customers and meet the needs of our agents, while helping our company push the boundaries of innovative telecommunications products and services."
For more information about AireSpring and its products, visit http://www.AireSpring.com.
About AireSpring:
Headquartered in Los Angeles, award-winning AireSpring is one of the fastest growing telecommunications carriers in the USA, with over 6 billion call records processed every year. AireSpring is a privately held, diversified, debt-free, and full service communications company which offers a broad range of innovative telecommunications services at competitive rates.
AireSpring offers next-generation voice, data, integrated, SIP/VoIP, MPLS, conferencing and cloud services designed to deliver power and flexibility at cost-effective rates. AireSpring has been named "Product of the Year," "Best Telecom Deal," "Members Choice top reseller," "Best In Show," and "Top Channel Program." To find product information, rates, or become an agent or reseller, please visit http://www.AireSpring.com or contact Todd Regan at (818) 786-8990, ext. 374.