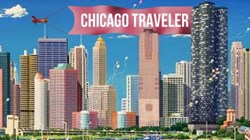 Tours were evaluated based on market popularity, holiday creativity, length, and cost (all of them are under $50).
Chicago, IL (PRWEB) December 09, 2013
Today, the editors of ChicagoTraveler.com, a leading Chicago tourism and travel website, announced their rankings for this holiday season's top tours.Tours were evaluated based on market popularity, holiday creativity, length, and cost (all of them are under $50). With the holiday season upon us, Chicago is in full swing holiday spirit. Below is a list of this year's selections:
1- Spirit of Chicago Santa Lunch Cruises - $49.90 per adult - 2 hours
No need to sail all the way to the North Pole to meet Santa this holiday season, Spirit of Chicago brings the big man to Lake Michigan this year! The Santa Lunch Cruise includes buffet dining, the incredible Chicago skyline, and lunch with Santa himself. Kids under 12 sail free. Be sure to hurry and purchase tickets, one of the two lunch cruises is already sold out.
2 - New Year's Eve Midnight Tour - $29 - 45 minutes
Enjoy the fireworks this New Year's eve from best vantage point in town! Shoreline Sightseeing Cruises will be ringing in the New Year from Lake Michigan, so be sure to end 2013 in style. All ages are welcome, so bring the kids and welcome in 2014 from Shoreline's cruise.
3 - Taste Chicago Tour- $44 - 3.5 hours
Walk through Chicago's holiday lights on this Tastebud Tours classic. From pizza to hotdogs, this tour is perfect for exploring the wonder of Chicago during the holidays while satisfying the taste buds. The mix of Chicago history and classic Chicago dishes makes this tour one of a kind for this upcoming holiday season.
4 - Walking in a Deep Dish Wonderland - $47 - 3.5 hours
The name draws us in, and the food keeps us happy. This holiday themed deep dish pizza tour takes patrons through the streets of Chicago and explores the roots of Christmas in Chicago. Tour is presented by Chicago Pizza Tours, and includes two full slices of Chicago's famous deep dish pizza followed by hot chocolate.
Trolley Tours
5 - Chicago Trolley: The famous Chicago Trolley & Double Decker Bus Co. is offering it's holiday lights tour starting now. Tour lasts 2.5 hours. Price: $29
BONUS Tour
The Second City Show: Though it's not quite a tour, the holiday specials this season at The Second City are a holiday hoot! Watch the Dysfunctional Holiday Show (December 7 - 30), or another holiday favorite for a good time this December/January. Price: $16 - $30
If you are traveling to Chicago with kids this holiday season a few of these picks may not make the cut. Check out this list of the best kid friendly tours and things to do in Chicago!
Happy Holidays!
This article was written by Lindsey Skinner, editor of ChicagoTraveler.com