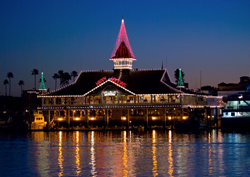 "Christmas at the Beach will be the perfect event for families to not only experience holiday cheer, but also take in the charm and appeal of Balboa Village," says Vicki Higgins, Executive Vice President and Chief Marketing Officer of Newport Beach & Co
Newport Beach, California (PRWEB) December 06, 2013
Experience holiday cheer like never before at this year's special Christmas at the Beach event. Taking place on December 7th from 2-6pm, this one-of-a-kind holiday celebration is located at Newport Beach's most beloved locations, Balboa Village.
Take advantage of the opportunity to gather with friends, family and loved ones at no cost and engage in activities such as cookie decorating, free carriage rides and visits with Santa, and attractions such as Christmas carolers, holiday movies and bounce house. Christmas at the Beach is a special celebration of holiday spirit in Newport Beach.
Home of the Fun Zone, Balboa Village has attracted locals and visitors alike for years with its inviting atmosphere, lively energy, and family feel. This holiday season, Balboa Village will transform into a winter wonderland, where families can enjoy a variety of festivities and may even be able to catch a glimpse of Council Member Mike Henn being drawn in to the event by sled dogs. The best part about spending Christmas at the beach? Experiencing the holiday season without the holiday weather! Enjoy the decorating, caroling and sight-seeing in Newport Beach's moderate coastal climate.
"Christmas at the Beach will be the perfect event for families to not only experience holiday cheer, but also take in the charm and appeal of Balboa Village," says Vicki Higgins, Executive Vice President and Chief Marketing Officer of Newport Beach & Company. "With activities for both parents and children, the event connects you to your loved ones and your community; ultimately, that's really what the holidays are all about."
For more information, go to http://balboavillage.com/events/upcoming/
###
About Visit Newport Beach Inc.
Visit Newport Beach Inc. is a not-for-profit, 501(c)6 destination marketing organization that positions Newport Beach as a premier visitor and conference destination. For more information, go to VisitNewportBeach.com.