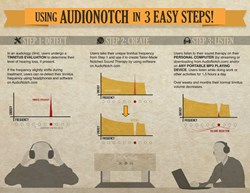 The holiday sale will be active until December 31st, 2013.
Toronto, Ontario (PRWEB) December 13, 2013
AudioNotch is the internet's leading proprietor of online tinnitus treatment. Offering Tailor-Made Notched Sound Therapy, AudioNotch provides an experimentally developed form of customized sound therapy for tinnitus sufferers worldwide.
Unlike many other tinnitus therapies available today, AudioNotch is designed to directly lower the volume of a patient's tinnitus tone. AudioNotch is also unique among sound therapies in that it does not require the usage of an expensive proprietary device, which inflates costs for patients. Instead, patients can use any MP3-capable playing device, such as an iPod, MP3 player, or smartphone. This allows AudioNotch to be financially accessible for a broad swath of patients.
For a limited time, AudioNotch is offering a significant discount to users worldwide - for the month of December 2013, AudioNotch subscriptions will be available for 50% off. This offer will end on January 1st, 2014. In order to claim the offer, click here.