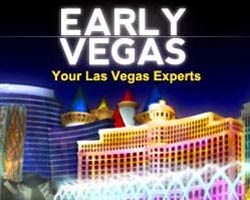 Las Vegas in the Entertainment Capital of the World - which means it's the place to be for New Year's Eve 2014.
Las Vegas, NV (PRWEB) December 07, 2013
Las Vegas is the place to be on New Year's Eve, with the shows, The Strip, and the parties to get 2014 rolling in with style. EarlyVegas.com, one of Sin City's most popular tourism websites, presents an itinerary of the "must-stop" parties and places to this New Year's Eve.
The whole Las Vegas Strip joins together to present a New Year's Eve the way only Las Vegas, the Entertainment Capital of the World, can. Big name casino resorts and hotels like Caesar's Palace, MGM Grand, Planet Hollywood, The Venetian, and The Aria launch fireworks off of their rooftops courtesy of by Fireworks by Grucci.
After 6pm all traffic on The Strip is closed for this event, so plan accordingly. If you plan to drive then aim to leave early, make sure to check all public transportation schedules. Enjoy an easier commute by booking a hotel on The Strip using a promo code deal or package!
Named "America's Party," this event is free to attend thanks to Las Vegas Events and the Las Vegas Convention and Visitors Authority. Anyone who can't make the party can still catch a telecast of the event as "America's Party: Live from Las Vegas" as well as special events for those on EST.
Want a jacked up New Year's extravaganza experience? Check out the Fremont Street Experience. At Fremont Street every kind of entertainment can be found. Catch a show, watch the fireworks on huge LED screens, or indulge in some delicious dining. Quality time at Fremont Street on New Year's is a MUST. Access to Fremont Street costs $60 on New Year's Eve, but it's more than worth the cost of admission.
Some other great New Year's Eve events in Las Vegas:
The Luxor Hotel and Casino starts the New Year's Eve partying on East Coast time, and then just keeps going on and on and on. Keep the party going by refueling with tacos and tequila, and keep things hot on the dance floor with DJ Ernan accompanied by a mariachi band!
The Flamingo presents X Burlesque, a sultry, sensual show that will bring in the New Year in a way only Sin City can. For a truly Las Vegas New Year's experience, this is a must see show.
Crowd favorite and queen of our hearts, Britney Spears, rings in the New Year at Planet Hollywood! Kick off a new beginning with old favorites like Toxic, Oops I did it Again, and Womanizer.
The Beatles REVOLUTION Lounge will be featuring a special performance by Grammy Award-winning R&B group Boyz II Men. Let them Make Love to You with their voices this New Year's Eve.
Paint the Town Gold with Mandalay Bay. Open to the public, this celebration turns the entire resort into a golden fusion complete with accents throughout the hotel creating a masquerade-style atmosphere. This is a complimentary event.
This article was written by Alex Turner an editor at EarlyVegas.com