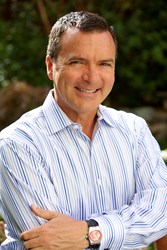 New York, NY (PRWEB) December 09, 2013
If last year's holiday season is any indication of this year's holiday travel period, travelers should expect big crowds, long lines, sold out flights and even higher prices. Over 115 million people from November to December 2012 flew for the holiday season, according to the U.S. Department of Transportation. That's a 1.3 percent increase from 2011 holiday travel. Travel expert Chris McGinnis says sky-high prices shouldn't scare consumers away from a stress-free holiday vacation.
McGinnis offers twenty years of expertise to millions of consumers, covering the hottest travel destinations, budget constraints and how to navigate around traffic and delays to ensure an enjoyable holiday adventure.
McGinnis suggests holiday travelers can avoid frustrations like blackout dates and other restrictions by simply using the right credit card. McGinnis states, "When I redeem points earned with my Chase Sapphire Preferred card, I'm not subject to travel restrictions or blackout dates. So instead of waiting around, I've already booked my holiday trip to Puerto Rico."
The Chase Sapphire Preferred card also rewards consumers with two points for every dollar spent on travel and dining, like flights, hotel and dining out. Another benefit of the credit card is that it doesn't charge foreign transaction fees, and now comes embedded with a microchip, making it easier to use overseas.
McGinnis says the first two weeks of December and the first two weeks of January are when travelers can find some of the lowest prices of the year. And for families looking for an ideal destination, Atlanta, Dallas, Denver, Las Vegas, San Francisco and San Diego are some of the least expensive U.S. cities to travel to this holiday.
McGinnis offers additional travel tips including how to navigate airport crowds to get through security faster as well as advantages of the stronger dollar overseas. For more information and travel tips, visit http://www.travelskills.com and http://www.chase.com/sapphire.
About Chris McGinnis
Over the last 20 years, Chris has offered his special blend of practical tips and advice to travelers as former editor of Expedia Travel Trendwatch, The Frequent Travel Advisor blog on the San Francisco Chronicle website, SFgate, and publisher of two popular travel blogs, The TICKET and The Bay Area Traveler. He is also a regular contributor and commentator on CNN, HLN and Fox News. He's a speaker, consultant and the author of two books on business travel, as well as contributes to several special business/luxury travel sections for the Wall Street Journal, Fortune and Bloomberg-BusinessWeek magazines. He's also director of Travel Skills Group, Inc. and hosts the popular weekly #TravelSkills chat on Twitter.
About Chase Sapphire Preferred
Chase Sapphire Preferred is a premier rewards credit card for people who are passionate about travel and dining. With Sapphire Preferred you enjoy premium travel rewards and benefits with no travel restrictions or blackout dates on airfare booked through Ultimate Rewards, double points for every dollar spent on dining and travel, no foreign transaction fees, 1:1 point transfer to leading frequent travel programs, 24/7 live customer service, access to exclusive cardmember experiences and more. The card now also comes embedded with Chip-and-Signature technology. More information is available at http://www.chase.com/sapphire.