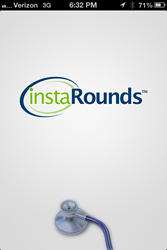 These type of tie ins are critical to maintaining a seamless communication stream between doctors
Washington DC (PRWEB) December 08, 2013
With the mobile healthcare technology space moving at break neck speeds, there have been many players competing for the attention of doctors, hospitals and insurance companies alike. While no single entity has the answer completely, many start-ups are finding unique ways of leveraging mobile technology to help with those pain points that affects providers daily.
One such pain point that affects both provider and patient is the communication or lack thereof between members of a patient's health care team. One of the most critical areas of the patient care continuum is the patient hand off and one small start-up has begun to pave the way for the lack of communication to be a thing of the past.
instaRounds launched with little fan fare but has been gaining traction quietly and quickly. While originally started as iRounds.net, they changed its name to be more unique from other players in the medical and non-medical arena that were using this same name. With its rebranding complete and numerous enhancements and upgrades to its user mobile and web platform it has been acquiring users across the medical spectrum.
The instaRounds platform allows for physicians, specifically OB/GYN's for now, to create and maintain patient lists, track scheduled procedures, physician call schedules, allow for HIPAA complaint text messaging, and for the first time allow cross coverage between various provider groups.
A recent and critical enhancement is instaRounds ability to tie into a health systems clinical care EMR, one such link is currently being rolled out with the Sorian Clinical system by Siemens.
"These type of tie ins are critical to maintaining a seamless communication stream between doctors" said Adi Akella CTO for instaRounds. While just the beginning the company is working with both physicians and healthcare systems to provide this tool to their providers.
The instaRounds platform is currently being rolled out by specialty as it is now only available for OB/GYN's however the plan is to expand to other care providers, like General surgery, Trauma, and Internal Medicine. "But, the skies the limit as every specialty and sub specialty in medicine would benefit form being able to communicate better,'" said Kurian Thott MD Founder and CEO of instaRounds, "with more than 70,000 OBGYN's in the U.S. we felt this one specialty would be a good start and with more than 700,000 licensed U.S. physicians that could communicate on the instaRounds system, this healthcare space could be changed altogether," he added.
For more information about instaRounds visit their website at http://www.instaRounds.com.