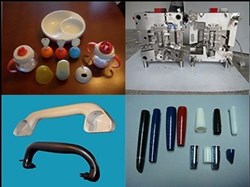 (PRWEB) December 07, 2013
Wuxi Glory Plastics is famous China injection molding company. Recently, the company has started to offer custom silicone rubber products at its online shop. According to the CEO of the company, all new and old customers can order nice custom silicone rubber products without any extra cost.
"We are proud to make custom silicone rubber products. What's more, we are now launching a special offer on our custom made items. Those who place an order before the end of this month can get discounted prices, up to 30% off. We want to facilitate more customers and expand our online market." The CEO of the company says, "Please note that the promotion will not last forever."
Wuxi Glory Plastics deploys strict quality control regulations and rejection standards that are carefully monitored by its professional team of skilled engineers and designers. All its custom made products are guaranteed to be made from safe and durable materials.
Last but not least, the company updates its website at times, in order to provide the latest product information to customers from all over the world. As one of the industry leaders, the company knows well about customers' needs and requirements.
About Wuxi Glory Plastics
Wuxi Glory Plastics specializes in developing and manufacturing of custom molded plastic product by taking advantages of the relatively low labor costs in China. It has most experienced workers in China. If you're looking for product design, engineering, prototyping, and mass production, Glory plastics can always find a solution for you. For more about our products and services, please visit: http://www.plastics-molding.com.