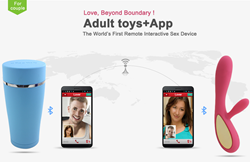 (PRWEB) December 08, 2013
Recently, the British company EFEELINK has launched a set of sex toys that can make remote love making come true. The products rapidly attracted worldwide attention and caused a hot debate.
"Remote-sex products are challenging our 'moral bottom line.' The buyers may not just be couples, and amorists are bound to get more promiscuous online," said a Chinese sexology expert. "In the future, it is possible that people will make love with strangers online; this can lead to problems such as divorce, sexploitation and others."
An American porn star Linda said: "I often use adult toys. EFEELINK's products are really amazing because they combine sex with virtual reality technology and the Internet. EFEELINK has brought a revolutionary solution in love making. The new toys would not replace traditional sex, but it will exist as a good choice."
Mark, an engineer of EFEELINK, said, this set of toys includes twp parts, one part for men, the other part for women. The lovers, who are separated by thousands of miles, can enjoy real-time interaction with a strong sense of reality through the real-time HD video.
Now, any one can find an EFEELINK user as his(or her) girl(or boy) friend through the "KChat" app. Then he can enjoy the love journey with EFEELINK products.
About EFEELINK
EFEELINK is devoted to designing and creating innovative adult products based on modern science and technology. Its products are created for males, for females, and for remote interactive section. They are the first pleasure object (through internet and smartphones) manufacturer in the world. Visit http://www.efeelink.com/ for more details.
Follow EFEELINK at:
FACEBOOK: http://www.facebook.com/efeelink
TWITTER: http://twitter.com/efeelink