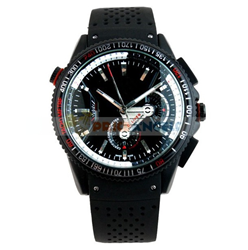 (PRWEB) December 07, 2013
With the coming of Apple smartwatch, watch has become a hot word online. Recently, PriceAngels.com, a leading global electronic products provider, has introduced its new arrivals, watches for men. These watches are listed at very low prices and they are offered with free delivery worldwide as well.
According to PriceAngels.com internal documents, watches for men are among their bestsellers in the past two months; the majority of shoppers came to their store not just for the watches, but also for other electronics. In another word, the watches sells well in the global market, which has stimulated the increases of other products' sales turnover.
"All our watches are available now and we have adequate staff on hand. Please make a pleasant holiday shopping season here at PriceAngels.com, and all our products have cutting-edge specifications. The watches are no exception, and their prices are much lower than many people's expectations," says, a vice president of PriceAngels.com.
He adds, "The Black Friday and Cyber Monday have proven a success for both online stores and shoppers. Our strategic promotions have drawn many customers to our online store where they found a great choice at deep discounts. Anyway, we thank our customers for opening their wallets, taking advantage of our special offers."
PriceAngels.com is an online B2C company that operates intelligent commerce networks. Our platforms connect manufacturers, trading partners and distributors worldwide. The company deals with a large number of transactions every day.
About PriceAngels.com
PriceAngels.com has a lot of experience in the wholesale and retail of the Chinese electronics. The company has a great knowledge of the coolest gadgets and client needs, which has helped it develop a very attractive and competitive product line of electronics. For more details, please view http://www.priceangels.com/mens-bracelet-watches-t111.html.
Follow PriceAngels at:
Facebook: https://www.facebook.com/PriceAngels
Twitter: https://twitter.com/Priceangels2008