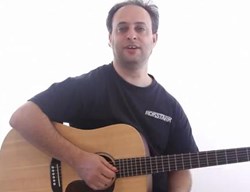 (PRWEB) December 07, 2013
In this guitar lesson, now available on YouTube.com, Claude Johnson teaches the song Clocks by Coldplay.
Claude starts this lesson with "a message for the beginners." He says that if you listen to the beginning of the song it starts off with a riff played on the piano and he demonstrates how it can be transposed to be played on the guitar, but explains that's a lesson for another day and that he will be focusing on the chords and strumming for this song. The chords that Johnson demonstrates for this lesson are E, Bm7, and F#m. "If you are not familiar with these basic chords, I recommend you check out my beginner guitar course at GuitarControl.com/beginner," says Johnson. He says, "I really think you're gonna love it; in fact, it comes with a double your money back guarantee." Claude continues with the lesson by explaining that you can ignore the "fancy" finger picking needed to emulate the piano part and just strum the chords and sing and it sounds great. Claude demonstrates a very basic way to play the song as follows; first is the E chord played as down strokes for beats 1 & 2, and then the Bm7 chord also played as down strokes for beats 3 & 4 and then two more times for beats 1 & 2 of the next measure, and then finally F#m for beats 3 & 4, also played as down strokes. More great beginner songs can be found at GuitarControl.com/beginner.
Coldplay is a British rock band formed in London in 1996. They have released five albums and have sold over 60 million records worldwide.
Claude Johnson
Claude Johnson, a native of Philadelphia, PA, began playing guitar in 1990 after being inspired by players like Jimi Hendrix, Eric Clapton, and Stevie Ray Vaughn. He is the creator of GuitarControl.com and has helped 1000's of people to learn to play the guitar with his critically acclaimed instructional DVD courses, all available at GuitarControl.com
About GuitarControl.com
GuitarControl.com is the leader in modern guitar instruction. It's packed with recourses including articles, video lessons, and the best videos in the business for the beginner to the advanced guitar student taught by the best instructors out there. Weather you are into the blues, rock, jazz, metal, folk, or anything in between, they have you covered.