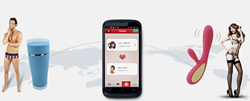 (PRWEB) December 09, 2013
In December 2013, EFEELINK launched a set of toys for long distance love, which have received great feedback from many customers all over the world. Today, the company announces big discounts on these new products. All customers can enjoy the great discounts, up to 39% off, before Dec.30, 2013.
According to the CEO of the company, they offer its clients the most elite and popular sex toys with a hassle-free manufacturer's warranty and satisfactory return policy. The innovative and unique products are perfect for many lovers as gifts.
Now, EFEELINK brings a revolutionary breakthrough in love making, and its products can make remote love making come true. Lovers, thousands of miles away, can have a strong tremor synchronously.
EFEELINK products are divided into two parts: one part is for men, and the other part is for women. A man holds a masturbation cup, and a woman holds a vibrator; the cup and vibrator can be connected to smartphones via Bluetooth. Signals can be transmitted through the internet, so two long-distance lovers can feel each other via this set of toys. Because their action and strength will pass through the device accurately, they can make love via an EFEELINK product.
Jessica, an engineer from EFEELINK said, "EFEELINK's deigsn is a good choice for the long distance lovers. The company has come up with big discounts on its well-designed and masterfully crafted toys.
About EFEELINK
EFEELINK is devoted to designing and creating innovative adult products based on modern science and technology. The company wants to help its clients worldwide find the right high-quality products to meet their individual sexual desires. Visit http://www.efeelink.com/ for more details.
Follow EFEELINK at:
FACEBOOK: http://www.facebook.com/efeelink
TWITTER: http://twitter.com/efeelink