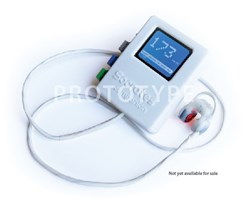 It represents the single largest investment of our portfolio investments so far - Carl Soderstrom, Founding Partner GPG Ventures
Dallas, Texas (PRWEB) December 09, 2013
Socrates Health Solutions announced today that Green Park & Golf Ventures has closed on a strategic investment in the company. For more than 20 years, healthcare companies have invested millions of dollars to try and produce an affordable, noninvasive glucose monitor. Using new, patent pending technology, Socrates already has a working prototype and will file for FDA clearance in 2014.
"Green Park & Golf is very excited about its investment in Socrates.  It represents the single largest investment of our portfolio investments so far.  The participation from our physician and healthcare community base was outstanding.  The technology is disruptive, management team experienced, and IP solidly on track," says Carl Soderstrom, a founding partner of Green Park & Golf Ventures.
Health Wildcatters' Executive Director and Co-Founder Dr. Hubert Zajicek said: "Health Wildcatters is delighted about Socrates Health Solutions' early fundraising success. The Socrates team is well positioned to execute upon their ambitious plan to introduce the first noninvasive glucose monitor to the US market."
The Problem
In the U.S., there are over 26 million diabetics and approximately 2 million new patients are being diagnosed every year. Worldwide, there are 371 million diabetics. 84% of these seek treatment requiring frequent glucose testing. The testing devices available today require finger pricking and the purchase of test strips. This is painful, inconvenient and expensive. The World Health Organization predicts that diabetes will be the 7th leading cause of death in the world by 2030.
The Market
The annual worldwide glucose testing market for patients with Type 1 and Type 2 diabetes is currently over $10 billion dollars a year.
The Socrates Solution
Socrates Companion™, provides a convenient, accurate and pain-free glucose reading which does not require the collection of blood.
"Socrates is very proud of our affiliation with Green Park and Golf Ventures, as their involvement will further support the company's goals and strategy to bring this innovative and affordable solution to diabetics around the world" said Scott Smith, Chief Executive Officer of Socrates Health Solutions.
About Socrates Health Solutions, Inc.
Socrates Health Solutions is headquartered in Dallas, Texas, and is a Delaware-based corporation. We are a company committed to improving access to affordable care through the application of innovative technology and delivery models.
About Green Park & Golf Ventures
Green Park & Golf Ventures, built on over 50 years of operational and financial experience, seeks investment opportunities that offer above-market returns for its investors. Led by Clay Heighten, M.D., and Carl Soderstrom, the firm delivers strategic solutions, financial backing and a reliable network to its portfolio companies. http://www.gpgventures.com
FDA Disclaimer
Socrates Companion™ is currently not for sale and has not been evaluated by the FDA.
For more information about Socrates Health Solutions, visit http://www.socrateshealthsolutions.com.
Media Information – info(at)socrateshealthsolutions(dot)com , or (888) 656-9807