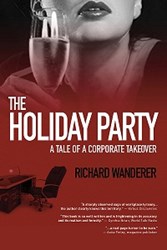 Reads Like a Movie
Los Angeles, California (PRWEB) December 10, 2013
In Richard Wanderer's fictional suspense novel, "The Holiday Party (A Tale of a Corporate Takeover)", http://www.theholidayparty-ataleofacorporatetakeover.com a huge, for profit only, media conglomerate takes over a family owned national magazine which was run in an employee friendly manner. The conglomerate comes and institutes a Draconian cost cutting regime and fires loyal employees of the takeover magazine for little or no cause (mostly because in the eyes of the takeover conglomerate they made too much money). Ironically, the magazine's employees' efforts had made the magazine a profitable enterprise and a great takeover target. He captures his readers' attention right from the start.
Beginning his tale with a raging holiday snowstorm in Manhattan and a lead character in the novel racing through it to get to a Wicca coven meeting then the author carries the readers across the continent to an elegant business Christmas Party in Los Angeles.
Richard Wanderer speaks about his novel in a 3 minute video at http://youtu.be/jtg9Fv_1mJE
Wanderer, who wrote, "The Holiday Party (A Tale of a Corporate Takeover)", http://www.theholidayparty-ataleofacorporatetakeover.com states, "I wanted to create an important suspenseful story my readers would sit back and enjoy reading - certainly one that would really hold their interest." Critics have favorably responded to Wanderer's novel. Thus, Kirkus Reviews calls it, "A sharply observed saga of workplace tyranny"; San Francisco Book Review, " Page-turner"; MidwestBook Review, "Highly Recommended", Indie Reader, "Suspenseful"; Bookviews by Alan Caruba, "Leaps off its pages", Cynthia Brian of World Talk Radio, "This book is so well written and is frightening in its accuracy and its realism and ferocity".
The Author's Background for Writing His Novel:
Richard Wanderer's background for writing his fictional suspense novel about the takeover of a national magazine and what happens to the lives of the employees after the takeover is that he spent more than 50 year of his life working in the advertising sales departments of major national magazines and a few newspaper chains, too. His scenarios are often an amalgamation of people and situations he has come in contact with through his personal experiences as well as a writer's imagination. Later in life, while working full time and raising a family, he also became a member of the California Bar.
Published by Two Harbor Press, the novel is available in softcover and also on Kindle and Nook. "The Holiday Party (A Tale of a Corporate Takeover)", http://www.theholidayparty-ataleofacorporatetakeover.com
Contact: Patricia O'Brien, St. Bernard Public Relations (818) 986-7777