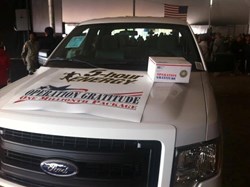 Farmington Hills, MI (PRWEB) December 07, 2013
Living Essentials, LLC, the distributor of 5-hour ENERGY® shots, today unveiled a Ford F-150 pickup truck as the special gift for the recipient of Operation Gratitude's One Millionth Care Package. The truck, which was driven into the One Millionth Care Package Event in Van Nuys, CA this afternoon, will be delivered to the soon-to-be-revealed service member upon returning home from deployment next spring.
"We are proud of the company's long standing relationship with Operation Gratitude, having donated more than $5.5 million in product to our nation's heroes over the years, and we wanted to do everything possible to make the One Millionth Care Package extra special for the service member who receives it," said Manoj Bhargava, founder, 5-hour ENERGY®.
More than 3,000 people attended the free event, including Military leaders from all branches, elected officials and Hollywood celebrities. They were treated to special activities throughout the day, including a touching ceremony honoring the Fallen and all Veterans, which opened with the laying of wreaths by veterans of all conflicts from World War II forward, followed by a Condor Squadron fly-over in the Missing Man Formation, and concluding with a 100+ motorcycle-led procession past the replica of the Vietnam Memorial Wall.
"Our One Millionth Care Package represents the enormous generosity and support of patriotic Americans all across the country," said Carolyn Blashek, founder of Operation Gratitude. "We are thrilled that 5-hour ENERGY® donated such a powerful American vehicle, the Ford F-150, to the milestone package recipient, who today represents all the members of the greatest Military on earth."
An exciting secret delivery of The One Millionth Care Package, containing symbolic keys to the Ford F-150, will be revealed to the public through social and traditional media by year-end.
About 5-Hour ENERGY®
5-hour ENERGY® is a liquid energy shot that provides a feeling of energy and alertness that lasts for hours. It contains a blend of B-vitamins and amino acids, zero sugar, four calories, and caffeine comparable to a cup of the leading premium coffee. It is available at retail outlets in the United States and Canada as well as throughout the U.K., Ireland, Spain, the Netherlands and South Africa. 5-hour ENERGY® has been working with Operation Gratitude since 2007 and has donated more than $5.5 million in product.
About Operation Gratitude: Operation Gratitude annually sends 100,000+ care packages filled with snacks, entertainment & hand-made items and personal letters of appreciation addressed to Veterans, First Responders, Wounded Warriors, Care Givers and to individually named U.S. Service Members deployed in hostile regions. Our mission is to lift the spirits and meet the evolving needs of our Active Duty and Veteran communities, and provide volunteer opportunities for all Americans to express their appreciation to members of our Military. Each package contains donated product valued at $75-100 and costs the organization $15 to assemble and ship. Since its inception in 2003, Operation Gratitude volunteers have shipped more than One Million care packages.