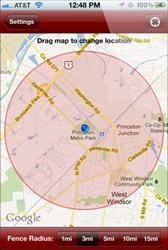 We are very excited about the upgraded version of the mobile application as well as the free Lite version of the app.
Howell, NJ (PRWEB) December 11, 2013
Currently available for download on the Apple iTunes Store, Unus Tactus, which was developed by Ashley Alliano a Licensed Speech Pathologist, utilizes a one touch photo dialing system to generate phone calls using phone numbers imported from your existing contacts or added manually. It also has the capability of tracking, mapping and alerting guardians or caregivers of the person with the phone. This is done via its Geo fence alerting feature which can be switched on or off as needed. The app is available for a one-time cost of $9.99 and no additional monthly fee.
Miss Alliano originally developed the application for adults and children with mild cognitive and/or motor deficits such as Alzheimer's disease, Dementia, Autism, Aphasia, Dyslexia, Parkinson's disease, Essential Tremors, and persons with visual impairments, Muscular Dystrophy, Cerebral Palsy, Multiple Sclerosis and even traumatic brain injuries. However, it can be used by people of all ages to provide additional safety with its multiple GPS location and dialing features, making it perfect for seniors, teens and new drivers as well.
With the new release, Unus Tactus refines and adds important features, including:

Easy set up and editing of an unlimited number of photo/phone contacts
Alphabetizing of contacts with picture and name display of every contact
Customizable emergency contact e-mail and phone number
Emergency button for fast help with a Google maps link to ID phone caller location
E-mails with a map link location sent to the emergency contact after every outgoing call
"Geo-fence" feature with 5 different distance settings up to 15 miles
Automatic e-mail with Google Map and, iCloud link if phone exits geo-fence area with out call being made. (All E-mail notifications are On/Off switch able)
"We are very excited about the upgraded version of the mobile application as well as the free Lite version of the app," states Ashley Alliano, creator of Unus Tactus. "There are so many uses for this app, for people of all ages, and for those it was initially developed for. Take children with autism, for example. The news has covered several instances of children gone missing recently. This is a parent's worst nightmare. The geo-fence feature of our app can be set to notify the parents within seconds when the phone has left a designated Geo-Fence area without a phone call being made. This alone could prove invaluable for not only locating these children faster, but locating anyone, at any time."
Alliano further mentions that the geo-fence feature is automatically turned off so that the emergency contact does not receive multiple alert messages.
The Lite version of the app, also now available for download on the iTunes Store, provides limited features of the full version. An Android version is in the works.
For more information, please contact Ashley Alliano via phone at 732-492-6417 or via email at unustactus(at)yahoo(dot)com. You may also visit Unus Tactus on the web at https://www.facebook.com/unustactus or https://twitter.com/unustactus.
About Unus Tactus
Unus Tactus was originally designed for those suffering from mild cognitive and/or motor deficits, but works for people of all ages to be able to use a smart phone easily while increasing their safety. Easy to use and setup, Unus Tactus is known for its "Touch, Locate, Call, Features." Visit http://www.unustactus.com for more information.