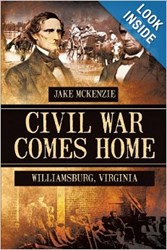 Hey, maybe I really am a pretty good writer
Williamsburg, VA (PRWEB) December 09, 2013
Released in late 2012,"Civil War Comes Home," is a work of narrated non-fiction describing the lives of people from various walks of life here on the Peninsula as war arrives, battles rage, and Williamsburg is occupied. Told from the diverse perspectives of slaves, students, soldiers, and townspeople, 'Civil War Comes Home' chronicles what life was like in this small, sleepy Southern town. Theirs are stories of sacrifice, hardship, hope and perseverance. Reading about citizens' determination, fortitude and romance in the aftermath of pitched battle, emancipation of slaves, and federal occupation for the duration of the war are inspirational.
Jeff's debut novel, "When Pigs Flu," is a military-spy thriller after the style of the late Tom Clancy. This "what if" page-turner, based on a real incident in which a U.S. research lab mistakenly ships thousands of samples of a pathogen world-wide becomes a race between bioterrorism and pandemic influenza.
Before becoming an award-winning author, Jeff Drifmeyer served on active duty for over two decades in the Army Medical Service Corps, serving overseas twice and throughout the U.S. including at Fort Monroe, where 'Civil War Comes Home' opens. Born in Washington, DC, but a long term resident of Tidewater, you're sure to enjoy his writing and story-telling skills.
On Sunday, December 15, 2013, Jeff will be pleased to autograph copies of his books, "Civil War Comes Home" and "When Pigs Flu…" at the College of William & Mary Bookstore, 345 Duke of Gloucester Street, Williamsburg, VA 23185 from 3:00pm - 6:00pm. He is available for appearances, book readings and signings,,interviews and topical speaking engagements. Please contact Karen Williams, Publicist, at 757-744-9648, or Karen Williams, Marketing for Authors for more information or follow him on Facebook or Twitter.