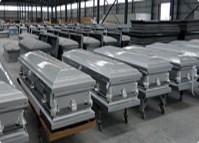 (PRWEB) December 09, 2013
Recently, MillionaireCasket.com, a renowned casket manufacturer and wholesaler from China, has introduced its new wood casket collection. The company offers custom designs of caskets at reasonable prices as well.
Now, all the products from MillionaireCasket.com are offered now at discounted prices, up to 39% off. Each of them is a work of art with comfortable designs. According to the CEO of the company, their wood caskets are built in different sizes. The company accepts customized requests.
MillionaireCasket.com is a growing business well known for helping casket distributors around the world find the desired caskets and related services. It provides everything that fits customers' needs to know to help establish and drive a successful business.
"We are so happy to introduce our new designs. Our experience and knowledge of the casket industry make us own the unique ability to understand and implement all of the needs required by today's customers. We have invested much money the wood casket project, and welcome to our factory in China. We have confidence in our wood caskets," the CEO says.
MillionaireCasket.com has been updated its website and the sales staff online are ready to offer customers more detailed information about the specification, construction, exterior fittings and interior. In addition to caskets, the business offer many funeral related products like stretchers, church trucks, body bags and urns.
About MillionaireCasket.com
MillionaireCasket.com is a popular China casket manufacturer, and specializes in the business of casket wholesale. It offers an exquisitely crafted line of all kinds of metal caskets, solid wood caskets, veneer caskets, cremation caskets, and many others. The standard quality control policy is strictly applied here, and a third party quality assurance is also available. Visit http://www.millionairecasket.com/category/product/solid-wood/ for more details.