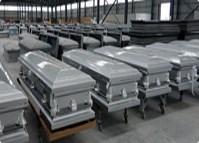 (PRWEB) December 09, 2013
MillionaireCasket.com, a top-3 casket manufacturer from China, has launched a special offer on all of its casket products for the casket distributors worldwide, especially those in the USA. Any order of 10 caskets or more can get a special discount, up to 40% off. This offer is valid until Jan. 28, 2013.
MillionaireCasket.com is a top-3 casket company in China. All its products are exported to the overseas market. It has over 10 years of experience in the industry. The company is providing different interior and exterior structure and decoration for the clients around the world.
Accorining to the CEO of the company, those who place a big order now can break the payments down in 3 or even 5 payments to make their products more attractive to all casket distributors looking to get started right away. MillionaireCasket.com is willing to provide more flexible payment solutions for its old customers around the world.
For more information about how to begin business today with MillionaireCasket.com, please visit http://www.millionairecasket.com/category/product/metal-casket/. The company will provide satisfactory solutions for its customers.
"We are happy to launch the promotion, and OEM orders are welcome here at MillionaireCasket.com. All our caskets are carefully treated to resist rust and corrosion. They are all manufactured with the premium-quality craftsmanship and materials, and each one comes with a special locking system," says the CEO of the company.
About MillionaireCasket.com
MillionaireCasket.com is a leading China casket manufacturer (more details at http://www.millionairecasket.com), and focuses on the business of casket wholesale. Besides caskets, MillionaireCasket.com also makes and supplies urns, embalming tables, church trucks, stretchers and more.