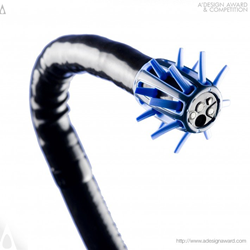 Como, Italy (PRWEB) January 13, 2014
EndoCuff by Alasdair Barnett and Bruce Hutchison for DesignEdge became a winner of the prestigious Silver A' Design Award in Scientific Instruments and Medical Devices Design Category.
More information on EndoCuff
The EndoCuff is an innovative disposable device that slips onto the end of conventional colonoscope to improve mucosal vision and enhance tip control during a colonoscopy. EndoCuff features soft flexible projections which gently support the tip of the colonoscope in the colonic lumen during extubation so providing greater stability and reducing sudden slip back and juddering. The projections evert large folds and flatten small folds so that significantly more mucosa can be visualized. With sixty million procedures worldwide this will revolutionize detection rates within cancer screening.
To learn more, please visit: http://www.adesignaward.com/design.php?ID=28274.
Design Team for EndoCuff
EndoCuff was imagined by DesignEdge team - Alasdair Barnett and Bruce Hutchison
The Silver A' Design Award
The Silver A' Design Award is a prestigious award given to top 5% percentile designs that has exhibited an exemplary level of greatness in design. The designs are judged by a panel of three different jury which is composed of Academic, Professional and Focus Group Members. The designs are evaluated with score normalization to remove any biases and are voted on aspects such as functionality, ergonomics, engineering, presentation, innovation, usability, fun details, technology, and any other specific points that could be considered, each of these points are further weighted for different jury groups.
About A' Design Award and Competitions
A' Design Award and Competitions, aims to highlight the excellent qualifications of best designs, design concepts and design oriented products worldwide by providing them fame, prestige and publicity. A' Design Award and Competitions are organized and awarded annually and internationally in multiple categories to reach a wide, design-oriented audience.
To learn more, visit: http://www.designaward.com.