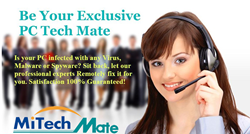 That was magic and was incredibly effective. Although I had tried many instructions online but quite useless. Got stuck and found video guide from Youtube and I contacted the MiTechMate support on my phone. The guys fixed my problem ." So grateful.
Nashua, NH (PRWEB) December 15, 2013
According to the report, MiTechMate company has managed to help 1,000 customers to remove the scariest FBI MoneyPak Virus named NSA National Security Agency virus and "Your computer has been locked" Virus last month. The efficient and friendly services provided by MiTechMate can ensure that the computer infected by any ransomware could be unlocked safely and quickly.
Regarding to the common case of the National Security Agency virus, MiTechMate Tech Team defines it as a variant of ransomware family, which uses the name and logo of Police Station to scare and threaten computer users located in the USA. The malware forbids the victim to log in the desktop and claims that he/she has to pay $300 to unlock the infected PC.
In additional to the Online PC Service, MiTechMate Blog offers free removal guides in accordance with virus symptoms. Computer users all around the world could follow the detailed tutorials provided by MiTechMate to remove viruses step by step. With MiTechMate's step-by-step removal instructions on how to effectively get rid of FBI ransomware, lots of victims were able to unlock their PC by themselves, without paying money to the virus maker.
According to MiTechMate PC Lab, there's another case named Interpol Department Of Cybercrime virus, which is similar to National Security Agency MoneyPak virus, pretending to be the official FBI organization to demand $100 fine for computer unlocking.
The two cases mentioned are disseminated by the fake FBI, Metropolitan Police and other bogus enforcement agencies. Though users have done nothing illegal, their computers are just compromised by such hacker attacks. The warnings are undoubtedly fake. Some computer users were taken in, but most of the victims were able to identify the scam, and they seeked help on the Internet and finally found MiTechMate Online PC Support to help them remove the FBI ransomware with approximately 30 minutes, safely and quickly.
Meanwhile, some similar ransomwares such as ICE Cyber Crime Center Virus and United State Homeland Security Virus have been the big trouble. MiTechMate has been researching the malicious FBI virus seriously and is now capable of removing those scam viruses in 30 minutes. There are so many victims haven't realized that the FBI warning appearing on their screen belongs to a scam and trick. The FBI ransomware has been designed cunningly to rip off users. If victims get infected with those FBI viruses or "Your computer has been locked" MoneyPak scams, which demand a plenty fine of $100,$200,$300,$450,$500 or£100, they could just ignore the massage (the mentioned bogus notification). Victim whose computer has been blocked by those malicious scam virus now can contact Professional Experts 24/7 Online to get instant help, which are able to unlock computer from a plenty of ransomwares, including FBI virus( Mandiant USA Cyber Security virus ,United States Courts Virus and Metropolitan Police Virus, Australian Federal Police AFP virus, Chiefs of Police Virus, and Cheshire Police Authority Virus)
"All our employees from MiTechMate have been trained by Microsoft Certified Systems Engineer (MCSE) and Microsoft Certified Technology Specialist (MCTS) technical systems. Every service is guaranteed by NO FIX NO PAY policy. In the rare occurrence that we cannot remove the virus, your payment would be refunded 100%"—— Ervin George, CEO of MiTechMate, Inc.
Being 24x7x365 available, MiTechMate Online Service reaches a customer amount varying from 3,000 to 4,000 every week. The newly identified National Security Agency virus and Interpol virus have made MiTechMate busy with helping many victims. This can be the reason for the company's rapid growth and enhanced prestige.
About MiTechMate Inc.:
MiTechMate is a PC Online Repair Company founded in Nashua, New Hampshire. Currently, it has service centers in United States, China and Japan with thousands of customers all around the world, mainly in United States, Europe, and Asia. MiTechMate is specialized in removing a wide variety of computer viruses and fixing computer problems. MiTechMate tech services are 24x7x365 available for PC users worldwide.For more information, please visit http://www.mitechmate.com/