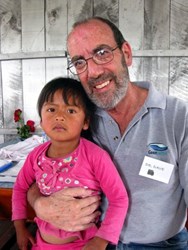 Sixty percent of my patients were kids. Our job is to get them out of pain and diagnose what's going on.
Melbourne, FL (PRWEB) December 10, 2013
Sitting in the shadow of a snow-covered dormant volcano is an Ecuadorian village known for its long-stemmed roses and its hard-working people overcoming incredible obstacles. The people live in homes built with hand-made bricks they molded themselves. They have electricity, but no centralized plumbing or sewage system. It is in this village called the Juan Montalvo Barrio on the outskirts of Cayambe that Coast Dental Melbourne dentist David Spector has trekked six times to bring relief and smiles.
"When I first began coming here, 85 percent of the children were infected with parasites and there was rampant tooth decay because the kids didn't know how to brush their teeth properly," Dr. Spector said. "Now, the percentage of people with parasites is down to almost zero because of the medications our team left for the townspeople."
Last month, Dr. Spector and a team of 17 people turned the primitive, four-level building that used to be a church into a medical and dental clinic. Coast Dental donated the supplies to equip the clinic and Dr. Spector and Oral & Maxillofacial Surgeon Dr. Richard Schmid of Melbourne's New Image Maxillofacial treated 150 dental patients. The medical team treated 680 patients. The trip was coordinated by Servants in Faith and Technology (SIFAT).
"Sixty percent of my patients were kids," Dr. Spector said. "Our job is to get them out of pain and diagnose what's going on. We don't have x-rays, so that's where experience comes in handy."
While some patients needed fillings, others needed extractions. A 98-year-old man climbed up the four flights of stairs to have most of his bottom teeth extracted. He was incredibly grateful to the team for relieving the pain caused by decay.
And now there's more help on the way. The village's pastor, Jose Turguerres, has pushed to bring regular medical and dental services to the area. While Dr. Spector was there, they had a ribbon cutting to commemorate turning the old church into a permanent clinic, and the pastor hopes to recruit a dentist and a doctor to come in to provide free care several times a month. The supplies from Coast Dental will keep the dental clinic stocked for a while, and Dr. Spector is working to create an ongoing program that would give fluoride tablets and vitamins to the 800 children in the community to help prevent tooth decay.
"These people don't have a comfortable life," Dr. Spector said. "Most cook over open fires in their homes. We can improve their quality of life just by giving them such simple things as toothbrushes and toothpaste – things that we take for granted here in the States."
"I'll definitely be back," he said.
About Dr. David Spector
David Spector, DDS, provides family dental services and emergency dental services at Coast Dental Melbourne, 7777 N. Wickham Road, Suite 4, in Melbourne, FL. He has 30 years of experience in providing services including exams, cleanings, crowns and bridges, full arch reconstruction, cosmetic front teeth makeovers, and teeth whitening. He earned his dental degree at the University of Maryland Dental School and is fluent in English and Spanish. To make an appointment, please call (321) 255-6303.
About Coast Dental
Coast Dental, P.A., with its professional associations, is one of the largest providers of general and specialty care in the United States with 180 affiliated practices operating as Coast Dental, SmileCare and Nevada Dental Associates in Florida, Georgia, California, Nevada and Texas. Coast Dental Services, Inc. is a privately-held practice management company that provides comprehensive, non-clinical business and administrative services to its affiliated practices. The company is headquartered in Tampa, Florida. For more information, visit CoastDental.com.