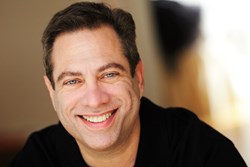 In our modern world, we don't grieve well. Grief is some of the toughest terrain we encounter in our life. From my own personal tragedy, I've created grief.com Because love never dies
Los Angeles, CA (PRWEB) December 11, 2013
Every year millions of people face grief after the death of a loved one. This year will be different in terms of resources to get them though grief and the holidays. One new place to find help is online. Meet grief.com, a new online resource developed by grief and loss expert, David Kessler, the protégé of the legendary grief expert Elisabeth Kübler Ross. - She created The five stages of loss.
Grief.com offers not only help for the holidays, but also help for anyone dealing with loss any time of the year. There are also written resources as well as an extensive video library. Kessler says, "Not everyone in grief wants to read a book or go to a lecture or join a bereavement group. Some like the idea of watching a video dealing with their grief. That's why we have a library of videos helping loved ones cope with different types of grief. In the new digital era, many people are more comfortable finding information and resources online."
One of the most visited pages is"The Ten Worst Things to Say to Someone in Grief." Grief.com is there to help with grief and with coping with the holiday grief.
Tips for coping with grief and the holidays:

Light a candle for your loved one.
At the dinner table share a story about them.
Include them in the dinner prayer.
Prepare a favorite food dish or use their favorite recipe.
Hang an Christmas ornament in their memory on the tree
It is OK to cancel the holiday
Be of service that day. Perhaps volunteer at a homeless shelter.
Founder of grief.com
David Kessler, turned his own personal tragedy into becoming one of the most well-known experts and lecturers on grief and loss today. He is co-author with the legendary Elisabeth Kübler-Ross.of two bestsellers, On Grief and Grieving: Finding meaning in the five stages of loss and Life Lessons: Two experts on death teach us about life. He is also the author of the #1 best-selling hospice book, The Needs of the Dying. His work has been discussed in the Los Angeles Times, Business Week and Life Magazine, and has been featured on CNN-Cross Fire, NBC, MSNBC, PBS, Fox and Entertainment Tonight. David is a contributing writer on Oprah.com, Dr. Oz's Sharecare.com and, Anderson Cooper 360. http://www.Grief.com is visited for help and inspiration by reaching over a million people in more than 167 countries.
He just completed a new book with luminary Louise Hay called, You Can Heal Your Heart: Finding peace after a breakup, divorce or death. (Feb, 2014)