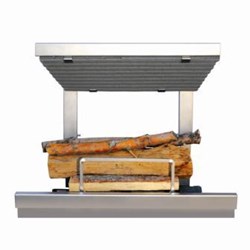 If what you want is the beauty of a wood burning fireplace that keeps indoor air healthier and emits less pollution, and one that warms you up when you sit in front of it, this is the choice for you - Steven Kolmes, University of Portland.
Corona, CA (PRWEB) December 12, 2013
Earth's Flame is passionate about wood burning fireplaces. Based in Corona, California, Earth's Flame is the sister company of Canterbury Enterprises, founded in 1954 by Joe Leighton. During cold weather, families can now replace their existing cast iron grates with Earth's Flame's Hybrid Clean Burn System and double the radiant heat in their wood burning fireplace. This stainless steel system produces up to twenty times more radiant heat than a wax fire log and five times more than a gas log set. When power outages occur, Earth's Flame is the solution to bring heat into homes with or without the use of gas. The operating cost is only .31 cents per hour with gas, which is a cost savings from escalating heating bills.
Working with the EPA and the Hearth Products Association, Earth's Flame was developed and engineered to reduce harmful emissions into the environment and decrease health risks associated with inhaling wood smoke. For the most serious wood burning households, for every 1000 homes burning 1/2 cord of wood per year, the Earth's Flame retrofit could reduce their total emissions by 5.5 tons per year. For this reason, the Earth's Flame Hybrid Clean Burn System is one of the only retrofit devices to be qualified by the EPA. An environmentally "green" solution for removing harmful particles from wood smoke, Earth's Flame was honored to win the Hearth and Home Green Award in 2010 and is patented.
Installation is easy for the homeowner; simply visit the Earth's Flame website and measure the fireplace according to the "Will it Fit" document on the site. Earth's Flame can be used in conjunction with gas and the Blue Flame Log Lighter, CSA certified to burn a hotter, more efficient fire. Blue Flame is the manufacturer of the original Blue Flame Log Lighters and Gas Valves for fireplaces. Homeowners can benefit by installing a Blue Flame Log Lighter in their fireplace. it will even ignite wet firewood and produce a hotter fire. These products are proudly made in the USA.
Earth's Flame is dedicated to reducing the harmful emissions generated from existing wood burning fireplaces and to keeping families warm and safe. It will also ensure that the American tradition of enjoying special family moments around the hearth will continue for generations to come.
Homeowners can get more information by visiting the website where they can receive a $100 discount and no shipping charge on the purchase of Earth's Flame when using promo code: PR6826.