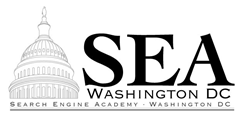 I wanted to add blogging to my site and make user navigation better.
Washington, DC (PRWEB) December 12, 2013
Search Engine Academy Washington DC (SEA DC) launched its website with a slight re-design and blog capabilities last week.
According to Nancy E. Wigal, the owner and operator of SEA DC, "I'd been using web site creation and editing software that was client side. I burn up computers because I use them every single day for hours on end, and I realized this was a vulnerability in my business operation. So I contracted with a web design firm to make me a slightly new design and move my site to a full blown Wordpress platform to be server-side. Now it doesn't matter if I destroy laptops; I can at least access my site and update it without worrying about equipment."
Nancy also decided to split her blogging between the Search Engine Academy blog and her own. "I want to have regularly updated content on my own site that's just not course schedule updates. So now I'm also publishing blog posts on my site."
"I regularly urge all of my students to use Wordpress if they're ready to make a change, because it's so darn SEO-friendly. You can get basic SEO functionality, as well as Google Authorship, schema.org capability and a new in-depth articles plug-in. All of these promote your organic SEO efforts to show up higher in search results," said Nancy.
I made the navigation a little more user-friendly by using horizontal drop down menus. I re-ordered the importance of my content pages and I hope to get more engagement," according to Nancy.
In addition, Nancy took the opportunity to offer two new SEO courses: SEO Content Writing and SEO For Press Releases. "I'm excited to offer a one day writing course that teaches very basic SEO, as well as a half day course for PR pros to get better visibility on the search engines for their media releases. These courses will be offered on demand."
About Search Engine Academy: Founded by Robin Nobles and John Alexander, the Academy has locations in the U.S., Canada, Europe, Australia, United Arab Emirates and Malaysia. Each location offers two, three and five day SEO training and certification courses for anyone who has a website that does not get high search engine results visibility.