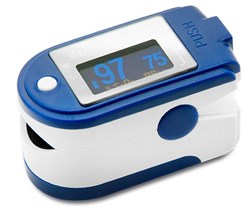 I am fine now and definitely can say the pulse monitor was instrumental in detection of the problem.
Indianapolis, IN (PRWEB) December 10, 2013
Ambrose Barry took control of his own health care, and it may have saved his life.
Barry, who lives in Concord, N.C., recently purchased a pulse oximeter from Indianapolis-based online retailer Medical Test Supply to monitor the oxygen saturation in his blood. Using the pulse oximeter's software, he recorded his pulse and oxygen levels and took the data to a heart specialist.
"That data gave them the information they needed to fix my heart!" said Barry. "I was diagnosed with Bradycardia, (irregular/low heartbeat) and received a new pacemaker to treat the problem."
Barry's story is becoming more common in today's health care environment, as people are more and more concerned about their health coverage, and are taking matters into their own hands.
Consumer Uncertainty Leads to Taking Action
Recent news coverage about health care has centered on implementation of the Affordable Care Act's Web site, and the subsequent posturing and finger-pointing in Washington.
Lost in all of this is people's general concern about health care in general, no matter how they feel about the goings-on in the Nation's Capital. American's are increasingly worried about their health coverage, if they will be able to keep their doctors, and what treatments and procedures will and will not be covered.
Medical Test Supply recently conducted a survey of its customers and found that people are indeed worried. The survey found that over 53 percent of respondents were either somewhat or very concerned about the state of American health care.
"Our customers are unsure about what their insurance will or will not cover in the future," said Guy Bretzman, president of Medical Test Supply. "Perhaps because of that, many people are taking their health matters into their own hands."
Indeed, the survey also indicated that a desire to take control of their own health is a key motivating factor. Over 46 percent of the survey respondents said that their health insurance doesn't cover what they need, so they are doing more on their own.
While the government continues to struggle to figure out how to provide health coverage to the country, there are options available to people. Suppliers like Medical Test Supply provide equipment to monitor key vital signs and let people work more closely with their doctors.
"By learning to use equipment like pulse oximeters and blood pressure monitors, people can keep an eye on their health and be better educated when they do visit a doctor," said Bretzman. "If you are proactive, you can start to fill some of the gaps your health coverage leaves."
Barry agreed. "I am fine now and definitely can say the pulse monitor was instrumental in detection of the problem."