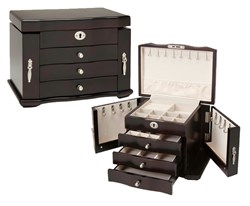 Richmond, VA (PRWEB) December 09, 2013
This holiday season, value-conscious shoppers are looking for gifts that hold a sense of tradition and hold an heirloom quality. Online retailer Chasing Treasure offers wooden jewelry boxes that it says are a traditional yet timeless gift, that they say remains popular today: "Without a doubt the most popular material for constructing jewelry cases is wood. Jewelry cases are not only designed for function, but for form as well. These are also pieces of furniture and in many cases are passed on as heirlooms."
The wooden jewelry boxes from Chasing Treasure come in many colors and designs, making them a thoughtful and unique gift idea. The pricing varies depending on the type of wood --from exotic and luxurious Bubinga wood from Africa and South America, to classically beautiful mahogany, to other hardwoods of varying color and grain. Chasing Treasure explains, "Wooden jewelry boxes mainly come in teak, walnut, oak, cherry, or Bubinga and are either left distressed or sanded smooth. One of the most beautiful of designs is a highly polished Bubinga wood due to its multi-colored wood grain." The designs can be traditional or modern, with appropriate fasteners and legs to suit. As a result, these wooden jewelry boxes can fit a wide variety of home décor styles.
Color and wood isn't the only option when choosing a wooden jewelry box. According to the site, "styles vary widely, but at the core, you have three basic types: standing jewelry boxes (or jewelry armoires), dresser top jewelry cases, and wall-hanging armoires." The most popular is the dresser top as it's the most convenient for space and comes in many sizes, accommodating small to medium-sized jewelry collections. Of course, some people have much larger collections. For these, Chasing Treasure recommends the 48" standing jewelry cabinet or armoire. Finally, wall-hanging armoire is useful in rooms where space is at a premium.
Shoppers can be confident in their purchase, because while Chasing Treasure offers a myriad of choices for color, design, and price, the wooden jewelry boxes "are crafted with attention to detail and qualify for our easy 30-day return and 1 year product warranty." This means that they make perfect gifts, as they are easily customizable but also returnable. There's no worry for those shopping for harder-to-please loved ones.
Wooden jewelry boxes are a thoughtful, practical, and long-lasting gift this holiday season. And with Chasing Treasure's Price Matching Guarantee, customers can purchase with confidence that they are getting the best value.