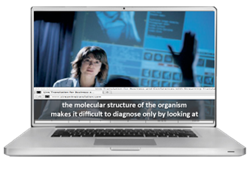 You are on the way to changing the world! – Haiti
(PRWEB) December 10, 2013
The World Trade Center in Atlanta streamed an unprecedented course on entrepreneurship that was delivered online in over 50 languages simultaneously using a software called Translate Your World. Tears streamed down the faces of professors and students in Haiti, because, for the first time, they understood the lectures. Rave "thank you" web chats poured in from Africa, Europe, and Asia, thanking the dynamic teachers from School For Startups for offering their course in dozens of languages. This World Trade Center Atlanta event was the first time in history that education streamed across the Internet in over 50 languages at the same time.
Today's increased bandwidth combined with the latest speech translation technologies crush the language barrier and open education to a prospective 4 billion people who own a computer, irrespective of where they are located or what language they speak. The new cross-language speech translation software by Translate Your World translates what people say in real-time for a global audience as subtitles or as synthesized computer voice like Apple's Siri for any conferencing software (e.g. WebEx, Skype, Blackboard) and for all devices. The low bandwidth required for speech translation made it possible for the World Trade Center in Atlanta to stream to regions heretofore unreachable.
As institutions race to prepare their classrooms for global Internet broadcast, spoken language has been the insurmountable barrier. Understanding the spoken word affects not only class lecturers, but also educational recruiters and marketers. New speech translation software does for spoken voices what "Google Translate" does for text; they translate what people say in a way that the listener understands. For education, this means translating a teacher's lectures from the podium into another language; giving recruiters new cross-language software to speak with prospective students; and offering avenues for promotional presentations in other languages.
Importantly, voice translation technologies reduce the cost of class translation by up to 95%, and quickly morph a classroom from local to global in a matter of days. Traditional lecture translation can easily cost $20,000 per 10-week course per language, and take months to prepare. Today's voice translation products translate the professor's voice directly as the professor speaks in real-time, then provide online interfaces for follow-up translation improvement, reducing the cost to $1,000 per 10-week course per language.
Companies in this arena:
Speech translation:
Several speech translation solutions for cross-language speaking were introduced in 2013 by Translate Your World. The solutions unite strong and tested software by Microsoft, Dragon, Google, and others into cross-language applications for educational and business use. The software makes real-time "live" voice translation, presentations, and cross-language conversations both feasible and inexpensive. Options include subtitles and computerized voice, plus capability to save in a database with an interface to improve and combine with video.
Classrooms on mobile:
Institutions also find the need to move their classrooms to mobile devices. Particularly for students abroad, mobile and tablet may be the only reliable Internet access available. IntelaText displays voice translation as real-time subtitles on mobile, and also provides mobile applications for teachers to converse with students and parents across language barriers.
Mobile tutoring:
Mobile Tutor is a cross-language talking and texting application that provides personal support for student-teacher-tutor relationships throughout the educational cycle. Each participant speaks or texts in their preferred language, translated for the recipient.
International recruiting:
For recruiting technologies, Streaming Translation uses voice translation software to offer online presentations across languages, webinar subtitles, and speech translation for Skype, WebEx, and similar.
The World Trade Center in Atlanta was the first organization in history to offer a college level course in 50 languages at the same time using speech translation software. Hopefully the first of many, because now all of the major speech technologies have reached a level of development that enable them to be used together in harmony for worldwide education at dramatically lower cost.