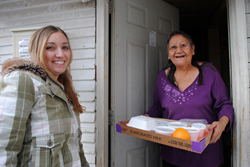 Through the SoMuchSavings system, they can save on their purchases and help their favorite charity. It's simple, effective, and everybody benefits.
(PRWEB) December 09, 2013
SoMuchSavings.com | Fundraising for Meals on Wheels programs
The challenge of fundraising for Meals on Wheels programs has become more critical in recent years due to cutbacks in government funding for social services and a growing demographic of aging Americans.
SoMuchSavings.com, an online saving and giving resource, has expanded to provide support for non-profit organizations such as Meals on Wheels and other meal distribution programs through a powerful, web-based platform that generates revenue while saving consumers money on everyday purchases.
Additional revenue streams are vital because meal delivery agencies, along with many other non-profit organizations that accept government funding, have found it increasingly difficult to make ends meet over the past decade as cutbacks have occurred in entitlement programs such as Medicare and Medicaid. Social service agencies watch with interest each time Congress considers reauthorization of the Older Americans Act of 1965, which has traditionally provided funding for a variety of programs such as in-home care, transportation and home meal delivery.
Contributing to the dilemma is the aging of the baby boomer generation, which in 2011, officially began to enter the traditional retirement demographic of age 65 and above. With ongoing advancements in medical knowledge and treatment, people are living longer, meaning that in the near future, record numbers of Americans will require social service programs such as Meals on Wheels.
"The number of programs competing for a piece of the funding pie continues to grow, and inevitably there's less for everyone," said David Capo, CEO of SoMuchSavings.com. "Meals on Wheels agencies and other non-profit organizations are faced with having to come up with other ways to generate revenue that are sustainable over time, and SoMuchSavings can help them do that."
Competition for dollars isn't limited to agencies that rely on government funding, however. Charitable organizations in general faced significant fundraising challenges during the recession that affected the economy over the past five years.
SoMuchSavings.com helps with fundraising for social service agencies other non-profits by providing the platform where they can register and develop their own shopping and saving web site free of charge. They can then direct their supporters to the site, where those individuals can save on purchases of millions of items from thousands of vendors worldwide. A portion of each purchase is directed back to the charity by SoMuchSavings.com.
"One advantage of the SoMuchSavings system is that the charity can develop and sustain an ongoing revenue stream," said Capo. "As long as their supporters keep going back to their site to shop on their behalf, they'll receive donations from each transaction."
The timing is ideal for non-profits to develop an online presence for fundraising, particularly one that involves e-commerce. Online shopping is growing in popularity, and more consumers are using mobile devices such as tablets and smart phones to shop online.
The prospect of having an ongoing source of funding is particularly beneficial because most Meals on Wheels agencies are small and operate on a local level, which means they cannot afford to have anyone on staff to handle fundraising.
"People are already shopping online," said Capo. "Through the SoMuchSavings system, they can save on their purchases and help their favorite charity. It's simple, effective, and everybody benefits."
About SoMuchSavings.com:
SoMuchSavings.com is an incentive-based, online savings resource that provides consumer savings, charitable donations and project funding to 501c3s, non-profits and unique project ideas. The company believes that, given the opportunity to do so, consumers will want to save money on purchases and help others during the process. The SoMuchSavings.com system was designed and developed to make this a reality for consumers, charities and projects around the globe. All registered causes are provided with their own savings, marketing and fundraising website. Learn more at http://www.SoMuchSavings.com.
Media Relations:
Tom Delamater
Delamater Media Group
(330) 437-5975