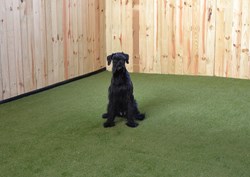 Teaching your dog the 7 lessons of Housebreaking 101 can help set the stage for a lifetime of housebreaking success.
San Antonio, Texas (PRWEB) December 10, 2013
Housebreaking both puppies and older dogs is a challenging aspect of dog ownership and one of the most common issues that San Antonio Dog Training Co helps owners overcome. There are many things that pet owners can do to help both young puppies and older dogs learn the rules of housebreaking. Teaching your dog the basics of Housebreaking 101 can help set the stage for a lifetime of housebreaking success. San Antonio Dog Training Co would like to share the 7 lessons that will help your dog pass Housebreaking 101 with flying colors.
Lesson #1: Put your dog on a schedule
The first and most important lesson of Housebreaking 101 is to put your dog on a schedule. Puppies and dogs do best in a predictable environment and setting a schedule teaches him that there are times to eat, times to play, and times to potty. This means not allowing your pet to have access to food constantly, but rather to have set meal times, such as first thing in the morning and in the evening before bed. Dogs have a something called the gastrocolic reflex, meaning that whenever food enters their stomach, their colon is stimulated to potty shortly thereafter. By having set meal times for your dog, you will be able to predict when your dog will need to potty, setting him up for success.
If you have a young puppy, you will need to modify this schedule slightly. Depending on their age, puppies usually need to be fed three or four times a day, so the schedule may need to consist of three meals + an afternoon snack. Feeding your puppy at the same times each day will make it more likely that he'll potty at consistent times as well, maximizing his chances for success. Also, there are other general times that your puppy will need to potty: first thing in the morning, after waking up from a nap, after a long play session or roughly every two hours while awake. Following this schedule and remembering the times when your puppy is most likely to go potty will help to housebreak your new family member in no time.
Lesson #2: Monitor water intake
The second lesson of Housebreaking 101 is especially important for young puppies, but can be applied to dogs of all ages who are having difficulty with housebreaking. Monitoring water intake does not mean never allowing your puppy to access water during the day, but rather, allowing your puppy to drink as much as he pleases in intervals throughout the day, followed by picking up the water bowl for a short time. Your puppy will generally need to potty about 15-20 minutes after a long drink therefore by periodically offering free access to water, you can predict when your puppy will need to potty. Also, picking up your puppy's water dish about two and a half hours before bedtime will reduce the likelihood that he will need to potty during the night. You only have to monitor his water for a couple weeks until he learns to go outside consistently. After mastering this lesson, you can leave the water down for free access at all times.
Lesson #3: Use only one area outside for going potty
Pick a small bathroom area outside and always take your puppy to that area each time he goes outside. While it may be tempting to walk your puppy around the block, using the same area each time will allow your puppy to focus on going potty. This area will have the same smells, the same stimuli and will have less distractions, making it easier for your puppy to potty quickly and set the habit of pottying outside faster. Contrast this with a stimulating walk around the block with all of the new smells, stimuli and distractions and you can see why going potty during a walk is more challenging.
Lesson #4: Associate a word or phrase with potty time
Just as a dog can learn to associate the word "sit" with placing his butt on the floor, a dog can also learn to associate going potty with being outside. The key to teaching your dog this lesson is to use a word or phrase (such as "go potty") every time your puppy is going potty. By creating this association, you can then use this phrase in the future to remind your dog to potty while you are outside instead of being distracted.
Lesson #5: Reward your dog for going potty outside
All dogs want to please their owners and naturally look to you to help them learn the difference between good and bad behaviors. By rewarding your dog every time he goes potty outdoors, you can teach him this is a good behavior. Immediately after he has gone potty, praise him or give him a treat. Since dogs have a short attention spans, this should be done as soon as possible and not after he comes back inside the house. Be careful to be certain he is finished going potty before your reward him since praising him too soon may distract him and cause him to forget to finish until he is back inside.
Lesson #6: Supervision while indoors is key
One of the other key lessons of housebreaking is to keep an eye on your dog whenever he is indoors. Close supervision will help to minimize the opportunities your dog has to soil in the house and allows you to watch for signs your puppy needs to potty. Some of the most common signs are barking or scratching at the door, squatting, sniffing around, or circling. When you see these signs, immediately grab a leash and take him outside to his bathroom spot. Allowing him to walk to his spot is important because if you pick him up, he will miss an opportunity to map his way to the door and out to his potty area. Mapping can help your dog learn to sit by the door when he needs to potty in the future.
Lesson #7: Secure your dog when he cannot be supervised
Normally, dogs do not like to potty in the same area where they sleep. Therefore, when you're unable to watch your puppy, he should be confined to an area that is spacious enough for him to comfortably stand, lie down, and turn around but not big enough for him to want to potty there. If your dog has to spend several hours in this area, you will need to remember to take him out to potty as soon as he is let out and praise him when he potties in the correct area. If you have rescued a dog who is already in the habit of going potty where he sleeps, then you can use a big space with paper or pads so he can go freely without laying in it to break this habit. After a few weeks, you can try making the area smaller again while following the lessons previously learned to achieve success.
San Antonio Dog Training Co has been helping owners teach their dogs these lessons for years with great success. The key thing to remember is to be consistent. The more consistently you reinforce the rules, the less likely your dog is to make mistakes and the faster your dog will learn the lessons of Housebreaking 101.