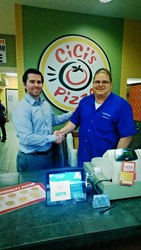 "Customer relationships are vital to the continued growth of our business. RewardMyWay provides us with the platform and merchant support to accomplish this." Karl Saldana, owner, CiCi's of Clarksville
Nashville, TN (PRWEB) December 10, 2013
CiCi's Pizza is proud to be one of the fastest growing pizza chains in the country. Its family-friendly restaurants feature a delicious custom pizza buffet that includes pastas, salads, soup and desserts for a great price. CiCi's currently has over 500 restaurants in 34 states and plans to continue to expand into new areas. One of CiCi's most successful franchisees, based in Clarksville, TN, has partnered with RewardMyWay to build closer relationships with its customers through advanced social and mobile engagement technology.
RewardMyWay (RMW) is the premier omni-channel marketing solution. Designed for forward-thinking merchants looking to reach existing and prospective customers with a full-cycle social, mobile and loyalty technology platform. RewardMyWay is the only customer reward program that enhances revenue opportunities through dynamic social media marketing offerings. It also provides unmatched face-to-face customer service and support for its clients.
RewardMyWay's platform allows merchants to increase customer visits through rewards and special offers, drive mobile transactions and improve retention all while increasing revenue. Merchants featured on RewardMyWay will have customized loyalty plans unique to their businesses marketed via social commerce tools that build online exposure and provide realtime cash visibility into purchases.
Karl Saldana, owner of CiCi's Pizza Clarksville, "I have partnered with RewardMyWay because I was looking for a reward program that allows us to build closer relationships with our customers. Customer relationships are vital to the continued growth of our business. RewardMyWay provides us with the platform and merchant support to accomplish this. Additionally, the RewardMyWay platform allows us to collect data for re-marketing private offers via email or public offers via social channels to drive additional revenue and further reward our most loyal patrons."
Alex Heidebreicht, Social/Mobile Marketing Specialist at RewardMyWay, "We continue to grow our market presence at a rapid pace throughout Nashville and Clarksville,TN specifically. I couldn't be happier to be working with Karl and CiCi's Pizza of Clarksville. Karl is a fantastic guy and a first-class operator, with the type of vision that makes him an ideal partner for us at RewardMyWay. Our goals for customer engagement and rewards, to positively impact business growth, are perfectly aligned with Karl and his team. We look forward for what lies ahead and the potential for working with other members of the CiCi's Pizza family."