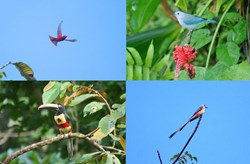 Last time we saw 12 toucans in the same tree! - Renter, Casa Terraza
(PRWEB) December 11, 2013
No where is the Earth more alive than the volcanic rainforest of Costa Rica: Set nine degrees north of the equator, it is a mountainous isthmus connecting one continent to another, and separating one ocean from another. The warm temperatures, humidity, precipitation and ecological diversity make the country a biodiversity hotspot--particularly when it comes to birds.
Most visitors to Costa Rica are surprised by the varied ecology of the country. From the dry, sparsely-forested, rolling cattle land of Guanacaste to the Cloud forests along the Talamanca mountains. From the labyrinthian wetlands to the primary coastal rainforest. Each of these ecologies attracts its own set of exotic birds.
Manuel Antonio enjoys a unique location and setting. Relatively accessible to San Jose and the central valley, it is the first place along the coast which truly brings all of the elements of Costa Rica together: thriving rainforest filled with wildlife, rivers, mountains, wetlands and mangrove systems.
Even in the back yard of one's own vacation rental property, one can go birding. Guests at Casa Luna--a three-bedroom rental home in Manuel Antonio--shot a dozen vibrant, colorful birds during just a couple of mornings. Some of the birds included: great kiskadees, scissor-tailed Tyrants, Blue-gray Tanagers, gray-necked woodrails, and even a toucan called a 'fiery-billed aracari'. At their last rental home they spotted 12 toucans in the same tree!
For travelers willing to get slightly off the beaten path, birding becomes a wonderland. On the ocean, frigate birds and pelicans take grace to a new level; within the mangroves tiger herons, kingfishers and great egrets stalk colorful crabs; in the wetlands, egrets, roseate spoonbills and white ibis feast together; in the cloud forest the resplendent quetzal bobs to the haunting tune of the elusive jilguero.
Manuel Antonio is a haven for wildlife-lovers, whether one is an avid birder, or just hankering to get a first glimpse of a monkey. Vacation villas and rental homes give visitors an even more private, even more natural setting from which to appreciate the local fauna. And now, one of the jungle's most famed animals, the toucan, is back.