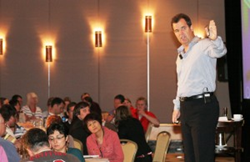 There are countless ways to make money in property, accumulate growth and cash flow, build a property portfolio and gain financial freedom without succumbing to the whims of the market.
(PRWEB) December 10, 2013
As the housing market in the UK continues to surge, GVA's UK Housing Market Outlook has predicted that home affordability should remain within reach for existing mortgage holders and first-time buyers, but only for those who can access banking mortgage finance and the necessary deposit. But real estate authority, Rick Otton, has reassured property investors that teaches non-traditional techniques that defy market trends and predictions.
GVA's Ray Minto said demand for housing in 2014 was looking high, with the help of Government incentive schemes and historically low interest rate levels.
"On the supply side, house-building is starting to recover after the rapid fall in the level of development in 2007. While the level of starts has begun to marginally rise again, it will take some time for output to increase significantly and is anticipated the level of development completions will remain suppressed over the next two years," he said.
"With rising demand and the on-going shortage of housing, we could see rising prices over the short and medium term, leading to affordability problems."
Mr Otton dismissed the problem of affordability for first-time home buyers and property investors.
"There are countless ways to make money in property, accumulate growth and cash flow, build a property portfolio and gain financial freedom without succumbing to the whims of the market," he said.
Secrets to long-term wealth
Mr Otton, an internationally renowned real estate advocate, regularly holds property seminars and events around the world, including an annual 3-day training conference in the UK.
During these intensive events, participants are exposed to step-by-step scenarios using Mr Otton's techniques such as deposit builder, turning negative to positive cash flow and securing transactions without having to access new bank loans or acquire debt.
Rick has been profiled in numerous national and international magazines and books as he shows everyday people how to create wealth in real estate, without bank loans or saving large deposits.
Using his techniques, many of his students have been able to create wealth and build their property portfolio year after year.
"For those who don't want to wait for my 2014 UK real estate conference, I've made freely available a downloadable Power Property Profits Pack on RickOtton.co.uk – so people can learn how easy it is to earn passive income through property in their own city," Mr Otton said.
"I like to offer a diverse toolkit of unconventional strategies and tips as part of my personal mission to empower people to learn my property millionaire secrets and break into the property market regardless of conditions."
The Power Property Profits Pack can be downloaded now, at no charge at RickOtton.co.uk
About Rick Otton
Rick Otton is a property investment professional who, over the last 23 years, has introduced innovative real estate strategies to the UK, Australian and the United States. His creative 'low-risk, high-reward' approach to buying and selling houses is exemplified in his own business, We Buy Houses.
This year marks the 10 year anniversary of Mr Otton introducing his strategies to the UK, and the 5 year anniversary of his innovative 'Buy A House For A Pound' process – one that attempted to be emulated by others. His constant process of strategy refinement, and adapting to the ever-changing real estate market, continues to place him at the forefront of property investment education.
In 2012 Rick Otton published his Australian book 'How To Buy A House For A Dollar' which was named in the list of Top 10 Most Popular Finance Titles for 2013. A UK version is on the drawing board for publication in 2014.
Mr Otton freely shares insights into his non-bank-loan strategies that have allowed everyday UK men and women to beat the rental cycle and have their own homes. He coaches others on how to build profitable businesses by facilitating transactions that focus on the needs of potential buyers and motivated sellers.
Access his free downloadable Power Property Profits Pack at RickOtton.co.uk, as are the details of early bird pricing for his next UK 3-day real estate training conference in March 2014. Phone enquiries in the UK are welcome on 0207 000 1027.