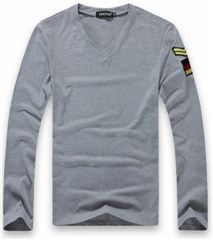 (PRWEB) December 09, 2013
Recently, 4leafcity.com, a famous company offering many kinds of clothes, has just released 30 new men's long sleeve T shirts to its product line. Along with this, the company is now offering big discounts on these fashionable clothes, up to 37% off. According to the CEO of the company, the special offer will come to an end on December 29, 2013.
"We are excited to release our comfortable men's long sleeve T shirt collection for customers throughout the world. These new shirts are available in several different colors and sizes. In addition to the affordable prices, all old and new customers can get discounted shipping fees. Customers can trust us, because we have been specializing in the clothing industry for years," the CEO of the company explains.
It is true that the fresh T shirts are designed especially for those who never compromise on style and quality. They are made from selected materials and suitable for men of all ages in all seasons.
A boy from England says, "I ordered two T shirts from 4leafcity.com. Both are wonderful. They are very soft and comfortable. I'm pretty skinny, but both of them fit me well. In addition, they are perfect for the fashion. The prices are so reasonable."
About 4leafcity.com
4leafcity.com was founded in 2009 and serves more than 5000 customers from every part of the world. It is one of the leading suppliers of men's and women's clothes, helping the people worldwide develop self-esteem, confidence and love of learning. For a full list of services and to learn more about 4leafcity.com, please visit http://www.4leafcity.com/product-long-sleeves-shirts-009001003.aspx.